Dodecanese
First impressions
Running from Patmos in the NW via Kos and Rhodes to Kastellorizon in the SE, the Dodecanese hug the magical, always visible, Turkish coast. These islands are greener than the Cyclades; their architecture shows Italian influence on Leros, Kos and Rhodes and the elegant "sea-captains" style on Symi, Kastellorizon, Halki and Kalymnos which in its way is surely as stunning as the dazzling white Cycladic cubist style. You can take a day excursion to Turkey from many ports: Rhodes-Marmaris, Kos- and Kalymnos-Bodrum, Symi-Datça and (unofficially) Kastellorizon-Kas.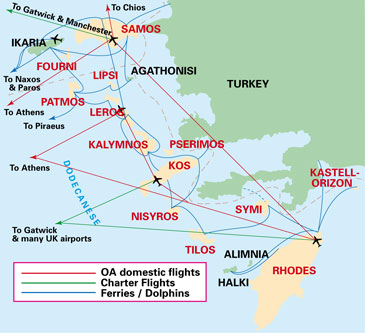 Getting there
The gateway airports are Rhodes and Kos. easy-Jet serves both several times a week. Both are also served by charters from many UK regional airports, but with the usual inflexibility of charters. Otherwise you can fly from London (Heathrow, Gatwick and Luton daily) and from Manchester (sometimes) via Athens with onward domestic flights to Leros, Kastellorizon, Kos and Rhodes. Sometimes Samos can work as a gateway for Patmos. There are frequent ferries, fast catamarans and hydrofoils serving all the islands – well, some more frequent than others. All the scheduled airlines now allow "open-jaw" travel enabling you to mix and match islands anywhere in the chain; but don't underestimate the cost of fast catamarans nowadays.
Plus points
The Dodecanese differ from many of the Cyclades in that the inhabitants live here year round, lengthening the season and making early and late holidays less prone to early hibernation and late emergence therefrom. There are major antiquities to see on Rhodes and Kos and plenty of Venetian remains, monasteries and churches, plus a volcano on Nisyros.
Minus Points
A little more prone to Martians because of the two big charter airports, but away from those islands they materialise as little more than day-trippers here and there.
Symi: Sea Captain style houses. Pile 'em high....don't sell 'em
For descriptions and pictures of each island please click on the orange island list beside the map. The seasonal dates for each unit of accommodation will be found below each accommodation description in the RH column of each page.


: the harbour-front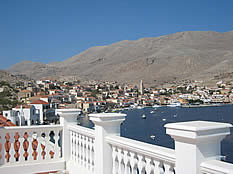 Halki: view from Hotel Hiona Art
Island list: choose & click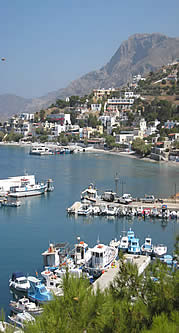 Kalymnos - Myrties
Kalymnos: Myrties
Kastellorizon, with Turkey beyon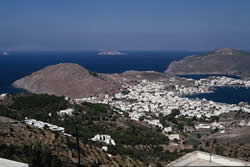 Leros: Alinda Bay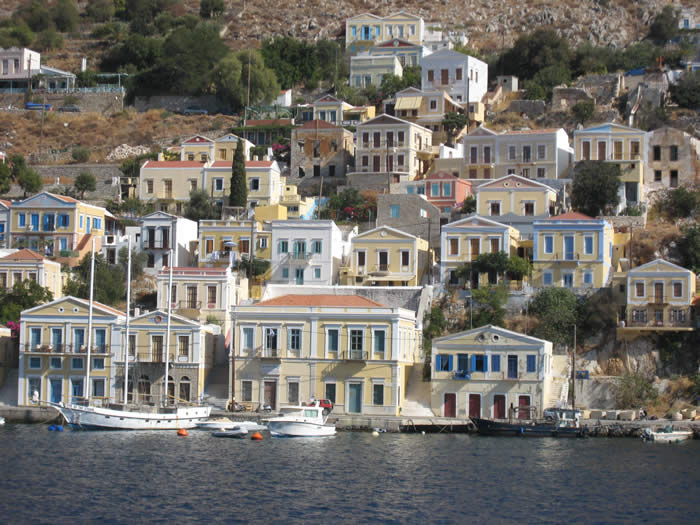 Symi - Gialos harbour