DODECANESE
Leros
Size: max 14km x min 1km
Martian Risk: minimal
An unusual island in that it has some 15 villages within a very small area. The island is easy to explore on foot or scooter but too small really to justify car hire unless there are more than two of you. There are steep hills, one topped by a ruined castle with a wonderful panorama of Alinda Bay. Roads wind down to the coast from the capital, Platanos, on one side to enchanting Penteli with a good beach, on the other to the more commercial (and beach-less) Agia Marina, port of call for most catamarans and hydrofoils. The wide sweep of Alinda Bay starts here and the first place you reach is Krithoni. A long thin sand/shingle beach runs from there for a kilometre or two to Alinda, backed by shady almarikia trees.
At Alinda you can hire a motor boat and go pottering round the coastline to find your private beach or just walk round the bay to the sandy beach and taverna at Maina. Or you can head off in the direction of the airport, spend half the day there plane-spotting (one arrival/departure daily) and continue round the NW end of the island to tranquil Plefouti Bay for a day on the beach away from almost everybody. On the other (western) side of the island is the huge harbour of Lakki, one of the most sheltered in the Med and scene for much Italian activity during WWII. Italianate architecture here is still very visible – too visible, some might say. By boat you can visit Patmos, Lipsi, Kalymnos or even Kos in a day. Plenty of local Greek life to enjoy – Leros has not gone in for unfettered tourism development.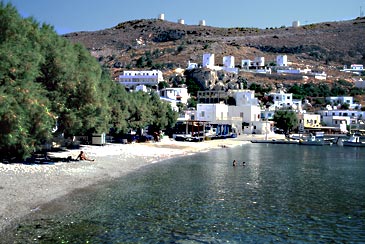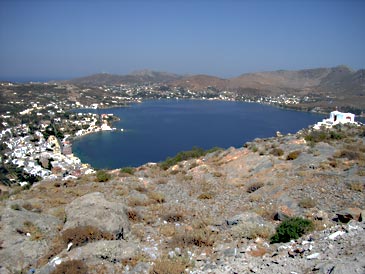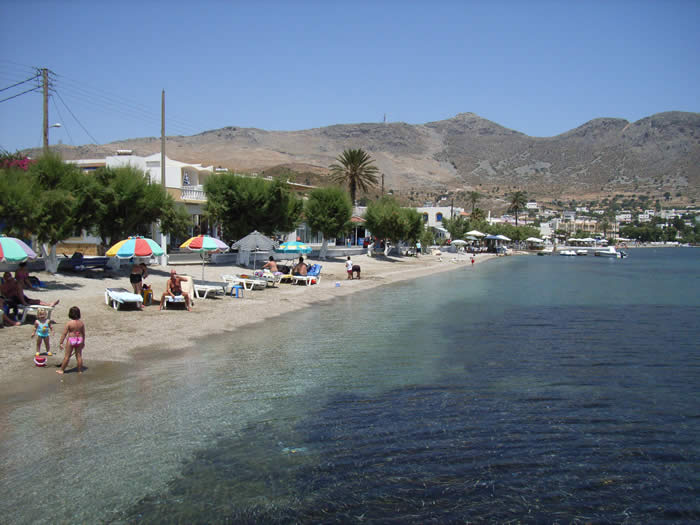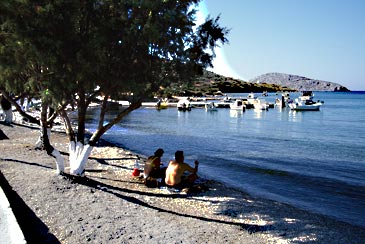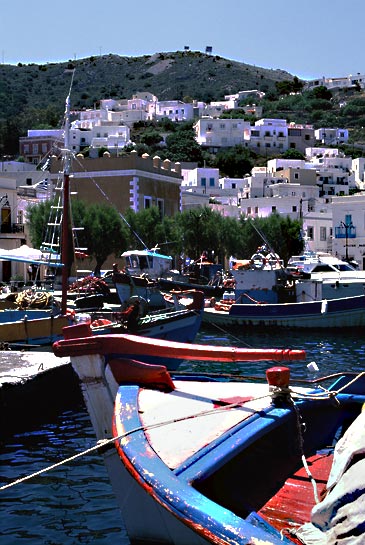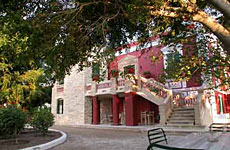 Definitely the place to stay, this is an old family mansion lovingly refurbished. It stands in spacious grounds where flowers, vegetables and fruit flourish. The cool interior has traditional murals and the high-ceilinged rooms are cool. It's a peaceful paradise, yet barely five minutes on foot to the beach - or you can walk a bit further to the sandy beach and taverna at Maina. The [optional] breakfasts are a speciality but are vegan so choose accordingly!. Fan (if needed), fridge, hair-drier, broadband internet access. Superior rooms and suites at small supplement.
RO breakfast on request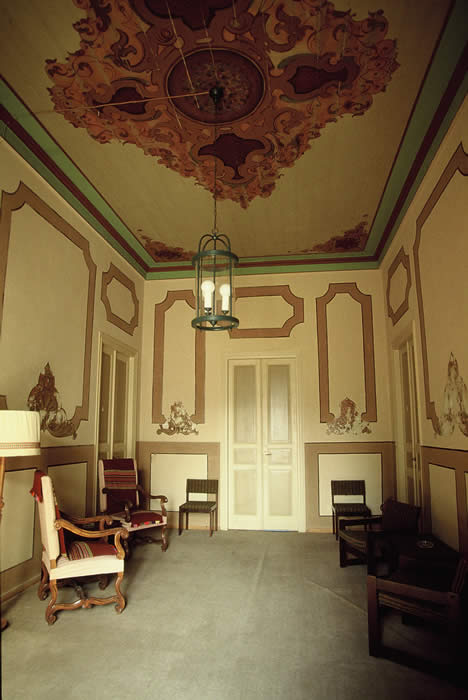 Enquire about: flights + accom'n at Hotel Angelou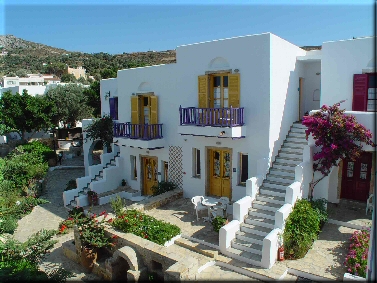 If you prefer self-catering, this small complex of studios and 1-bedroom apartments and suites is equidistant from Alinda and Ag. Marina and about 100 metres back from the beach. Each unit has a living area with Cretan style sofas (to sleep one adult or two children) in addition to the main Austrian twin beds. All have balconies or terraces with sea view.
Air-con; phone, fridge, sat TV. S/C 2-4 pers.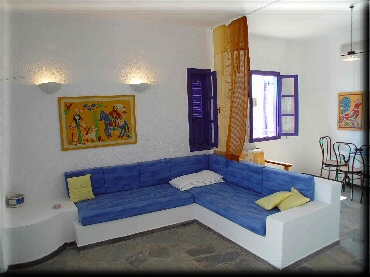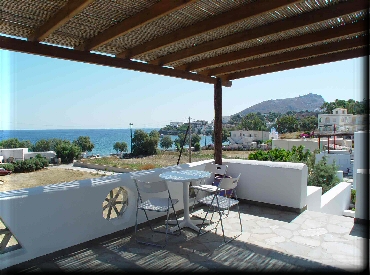 Enquire about: flights + accom'n at Nefeli Studios