DODECANESE
Kalymnos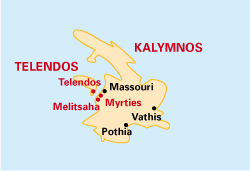 Size: max 22km long, min 3km across
Martian Risk: some, but easily avoidable
Kalymnos
Kalymnos is rapidly acquiring a reputation as one of the best, and fastest growing, locations in Europe for climbing. Its impressive range of rock-faces provides a huge area for novice and experienced climber alike, with its many well marked routes and with excellent professional instruction available. To crown it all, you can almost literally drop off the mountain (please re-phrase – Ed.) straight into the comfort of hotels with beach-life and even night-life on the spot. Traditional tourism is fairly modest and is concentrated along the west coast. Myrties is perhaps the main settlement here, with its jetty for the caiques taking you across to Telendos island and small ferries linking Telendos to nearby Leros. The other villages are Melitsaha, tucked round a corner and a lot quieter than Myrties, and Masouri (beyond Myrties) where there is a long sandy beach with water-sports, a well sound-proofed disco, several hotels, bike and car hire etc., making it useful for mixed groups. You have the option of staying in Myrties, quieter Melitsaha (with its excellent beach and some tavernas) or on almost silent (but hugely atmospheric) Telendos.
Telendos
Telendos is a mere 10-minute chug away. Traffic-free, it has a line of water-front tavernas with fabulous views back to the escarpment of Kalymnos itself. This area has grown quite popular recently, making the Hotel Porto Potha the ideal choice for a peaceful stay (and the finest views!), whilst being only a few minutes' walk from the lively harbour-front.
The tiny village has a shaded, paved main street which soon leads you over the saddle to a couple of beaches (one is popular with those who keep forgetting their swimsuits) on the west side of the island. If you are determined to try climbing without bothering to cross to Kalymnos, you can conquer Telendos – but be sure to take a friend or two with you, tell people where you are going and start at its western tip rather than try scaling its Eiger-like north face!
Activities
Bring your walking, climbing or diving gear – on Kalymnos there are wonderful walks from one side of the island through the hills and valleys to the other; and there are supervised climbing and diving with optional instruction. Boat trips to Kos, Leros, Lipsi, Pserimos (almost uninhabited apart from a row of restaurants for lunch beside a superb sandy beach sheltered from the winds) and to Bodrum in Turkey are available for a day out.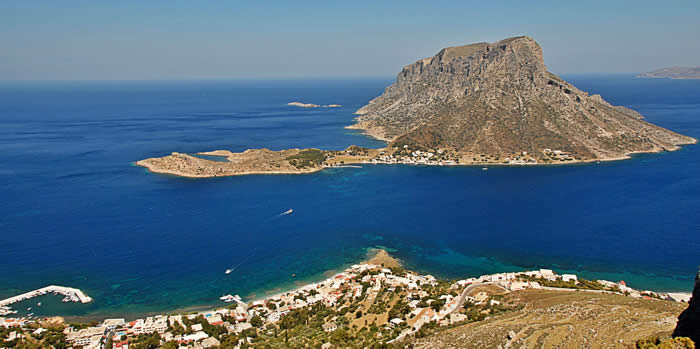 Kalymnos: Myrties, with Telendos Island across the straits - Hotel Porto Potha is last building on right on the island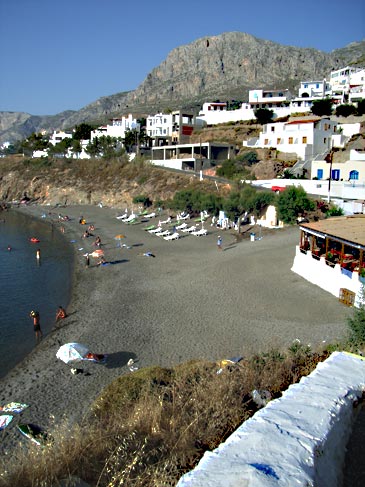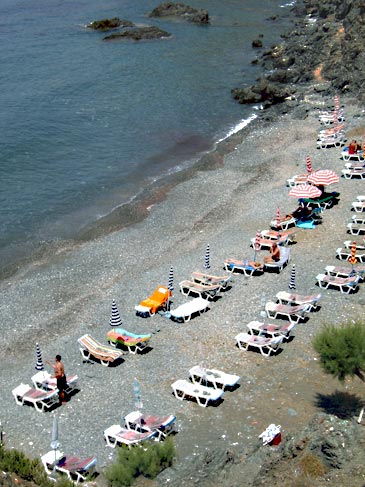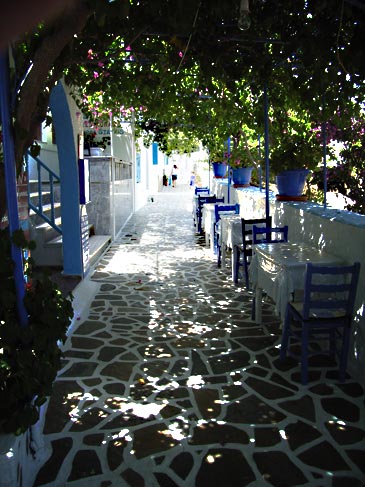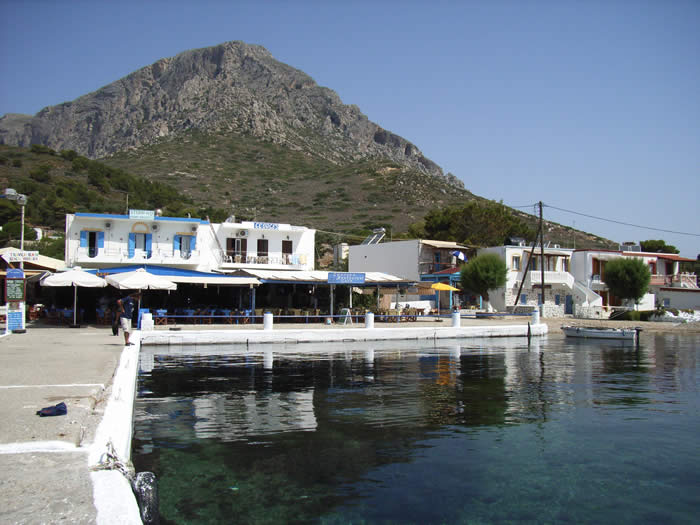 Telendos: the taverna-lined quayside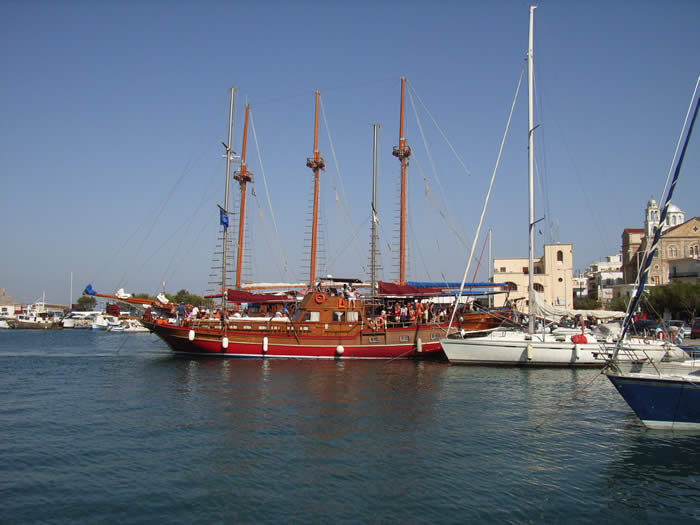 Kalymnos: in Pothia harbour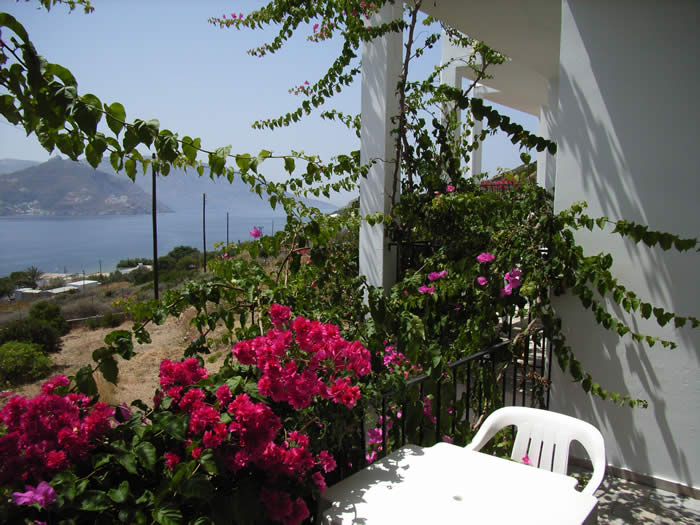 Telendos: view from Hotel Porto Potha to Kalymnos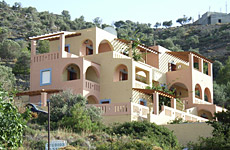 Nine excellently run studios and apartments, all with balconies or terraces (some on two sides). All have at least some sea view. Melitsaha beach is 150 metres away.
Air-con, sat TV. S/C 2-5 pers.
Enquire about: flights + accom'n at Amphitriti Apartments

Hotel Themis, Myrties
Hotel closed until further notice. Please ask for latest.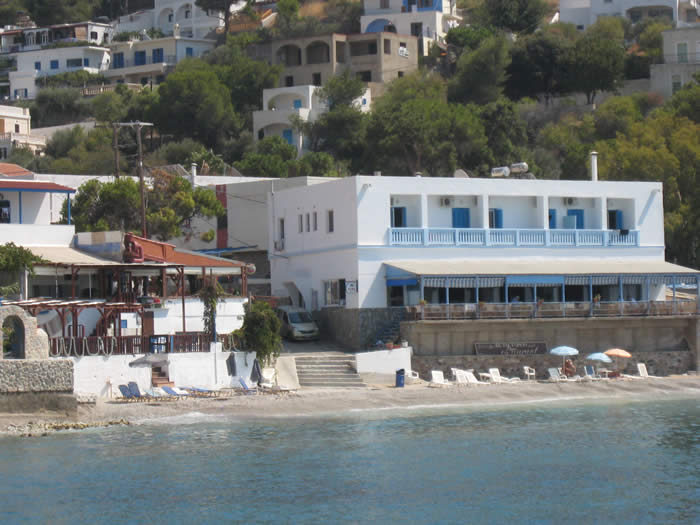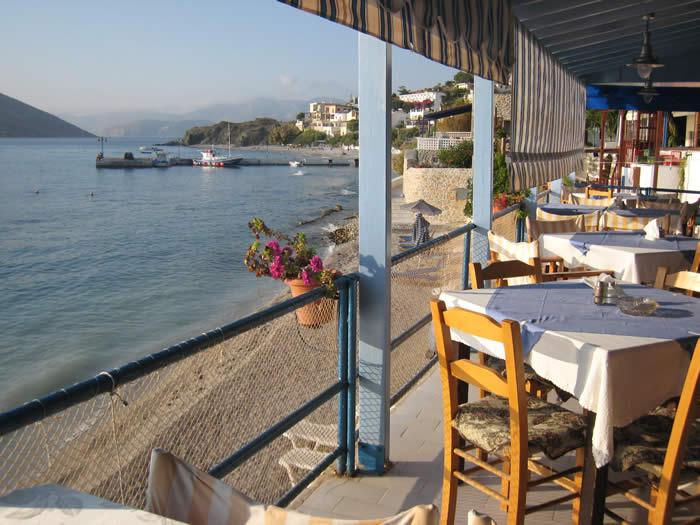 If you fall off the balcony of the hotel's dining room you will land on the beach. Just a few moments' walk downhill from the high street, this is the epitome of a family-run hotel where the owners know all their guests and treat them as friends – which they often become, due to the number of repeat bookings. Although B&B is the standard board, most residents take advantage of the excellent cuisine (and amazing value) in the owners' restaurant where you can dine inside at one of the balcony tables. The views across to Telendos are fabulous. The nine rooms are clean and well-equipped, if not hugely spacious; all have balcony and sea-view to Telendos island. This is a perfect hotel for families.
Air-con, B&B.
Enquire about: flights + accom'n at Themis Hotel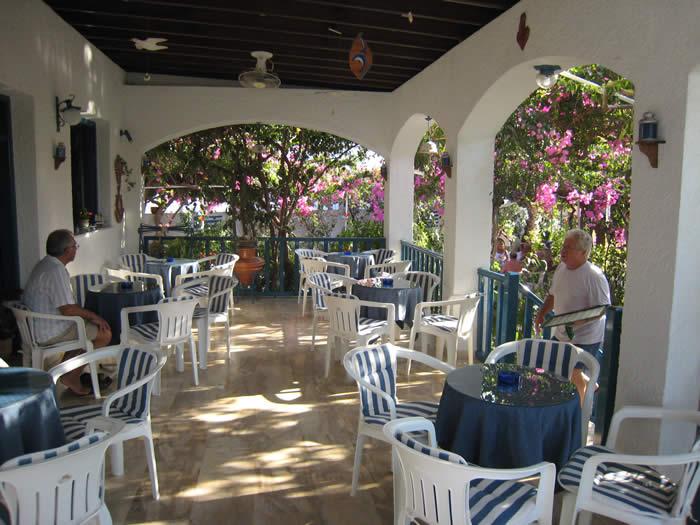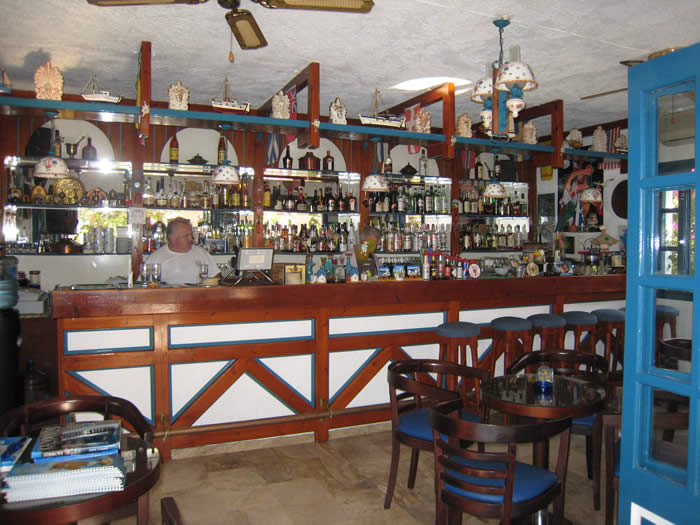 This is a charming and unusual hotel. The lounge area is kept in place by an immensely long and attractive bar on one side, usually with the two brothers who own the hotel serving from behind it, so perhaps not the obvious choice for tee-totallers; and on the other side there are steps down into the magnificent, shady garden with tables. The sea is a few steps away, though visible only obliquely from some of the 10 bedrooms. The high street is only a few moments away on foot.
Air-con, safe, mini-kitchen, hair-dryer. B&B.
Enquire about: flights + accom'n at Nefeli Hotel

Villa Nereida, Myrties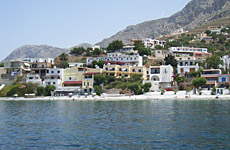 A well furnished apartment with two balconies overhanging the beach and facing Telendos. The sleeping/washing facilities are rather compact, with low doors and ceilings and are reached by stairs from the back of the living room; but it's a lovely apartment and handy for everything.
S/C 2 pers.
Enquire about: flights + accom'n at Nefeli Hotel

Telendos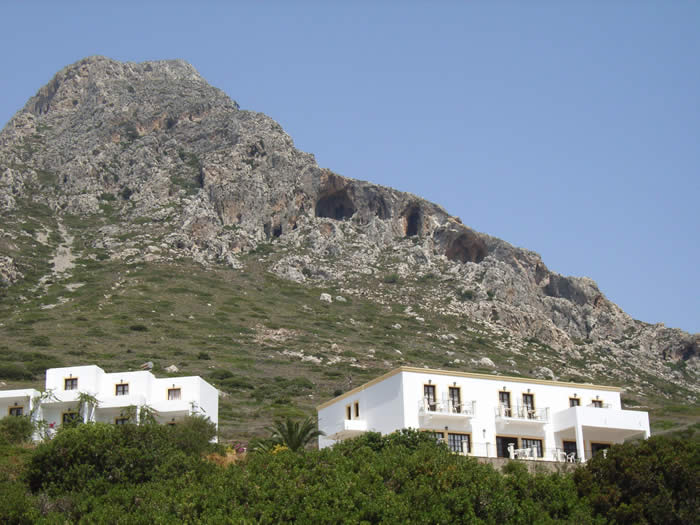 Magnificent panorama across the straits to Kalymnos, but only a few minutes on foot from the harbour-front. Main building has spacious sitting areas; the annexe (above) has slightly larger rooms.
Air-con, huge sea-water pool. B&B.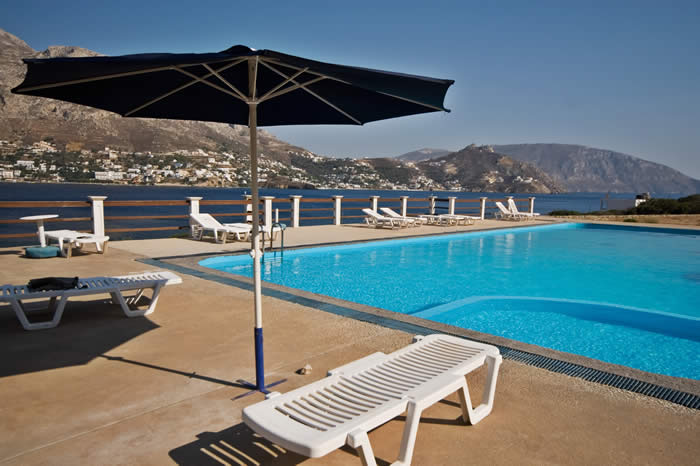 Enquire about: flights + accom'n at Hotel Porto Potha

Villas Vicky & Maria, Telendos Island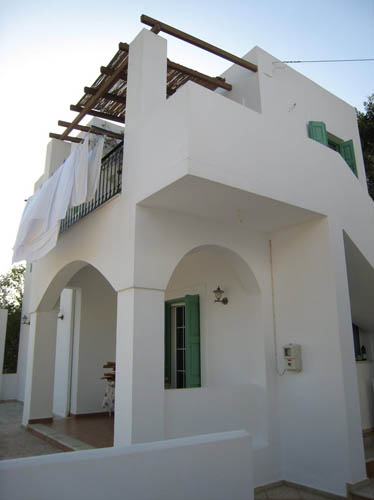 Two next door houses just back from the water-front offering attractive studios and 1-bedroom apartments, fitted kitchens and several balconies. The upstairs ones usually have better sea views, the ground floor more patio space. Easy walking distance from the tavernas and beach.
S/C 2-4 pers.
Enquire about: flights + accom'n at Villas Vicky & Maria