Athens, The Argolid & Argo-Saronic Islands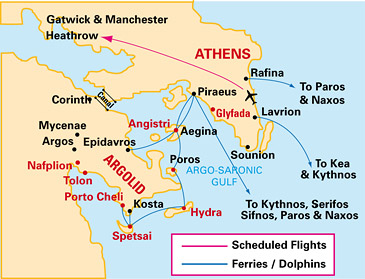 "Cradle of civilisation"? Well, yes, but only as a rival to many other claimants. "Birthplace of democracy"? Well, yes, unless you were one of the slaves working in Athens during the golden age of classical Greece in the 5th and 4th centuries BC.
But let us not carp: life in Athens during the times of the statesman Pericles, the philosopher Socrates, the tragedian Sophocles, the comedian Aristophanes and hundreds of other brilliant figures of history, philosophy and the arts must have been exhilarating. Although the 20th century buildings in Athens today are mostly unremarkable, the fact remains that there is still a fantastic legacy from a highly sophisticated civilisation to be felt and explored today, not least because from almost anywhere in the city you can glance upwards to the Acropolis, the Areopagus, Mt Lycabettus and the three mountains surrounding the city – Parnes, Pentelikon and Hymettus – as easily as the city's inhabitants could 2,500 years ago. A bonus is that there are also fine buildings – many lovingly restored now – dating from the 19th century when Athens was catching up with western Europe after centuries of Ottoman domination.
The physical remains of acropolises, palaces, fortifications, theatres and temples can be visited in dozens of places on the mainland within easy reach of Athens. Some are in Attica itself, the peninsula extending south from Athens and pointing towards the Cyclades; others are in central Greece to the north of the Corinthian Gulf; many more are in the Peloponnese, notably in the Argolid peninsula facing eastwards back across the Argo-Saronic Gulf to Athens. Often the ancient sites are still in landscapes which have scarcely changed since classical times.
But the mainland is not just culture and history. There are seaside resorts, bustling towns and villages, local festivals, islands to visit, tavernas to enjoy and glorious, unspoilt countryside to explore on foot or by car; and, as in most parts of Greece, there are always majestic mountain ranges to provide theatrical backdrops – and even more theatrical balconies from which you can enjoy stunning panoramas.
Above all, there is space: Greece has one of the lowest population densities in the EU and, as in France, it shows. Furthermore, a huge proportion of the inhabitants live hugger-mugger in the gigantic conurbation of Athens/Piraeus, leaving the rest of the countryside blissfully untouched.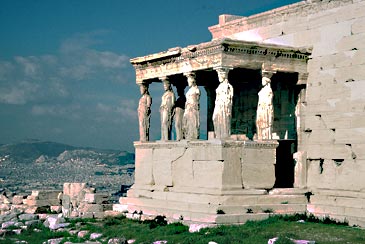 "Seen some changes here in our time, girls, haven't we?"
Descriptions and pictures of each mainland destination and then each of the four islands follow below; a table of guide prices completes the section. The seasonal dates for each unit of accommodation are listed at the end of each description on the RH panel of this page.
The Argolid Peninsula > Tolon | Porto Cheli | Nauplion
The Argo-Saronic Islands > Angistri | Hydra | Spetsai