THE ARGOLID PENINSULA
Nauplion
When booking, don't forget our
Martian Risk: negligible, but lots if Athenians
Historic Nauplion, which became capital of Greece in the 1820s after the Turks left, has a huge fortress with commanding views of the Gulf of Argos and many elegant buildings. It is an excellent centre for day trips - within half an hour by car you have Mycenae, Tiryns and Epidavros and, rather further but still practicable, Monemvasia, Sparta (Mystra) and even Megalopolis or Bassae; nearest of all, and often sadly overlooked, is Argos, with its imposing acropolis. For something different, try Nemea, an interesting ancient site too but now better known for its wines – go slow on the tasting before driving back. If a seaside break beckons, Tolon is about 15 minutes' drive away. Nauplion has been transformed in recent years and is now enchanting with its excellent tavernas, bars, restaurants and shops in the narrow, steep streets clinging to the gigantic rock which skirts its southern side.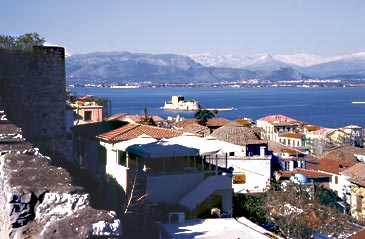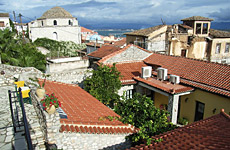 Overlooking the old part of town, this 14-room historic house has a breakfast terrace with lovely views across the bay and the centre of town is five minutes or so on foot.
Air-con; TV; mini-bar. BB.
Enquire about: flights + accom'n at Pension Marianna