ARGO SARONICS
Hydra
Martian Risk: some - from cruise boats.
Hydra is not just a pretty face: famous for its photogenic harbour and imposing stone houses, the island has always attracted visitors wanting to see a picturesque harbour village without tears: it's just a short crossing by fast hydrofoil/catamaran from Piraeus. But don't be put off just because it sometimes has its buildings featured in glossy magazines.
Idling is the chief activity – a saunter along the harbour front to admire the smart yachts, a slightly longer stroll along a gentle coast path to the quite good beach with tavernas. If you must be energetic, climb to the top of the steeply rising village to admire the view back (and across to the mainland and surrounding islands) or enjoy excellent walking across the hills to remote monasteries and beaches. In season there are excursion boats to beaches in the west of the island and the hydrofoils make trips to Aegina, Poros, Ermioni and Spetsai easy. The only traffic is the rubbish cart – even bicycles are banned.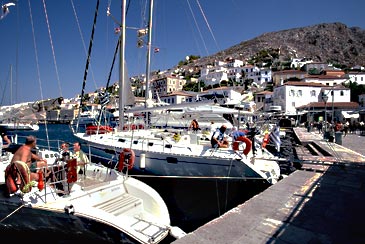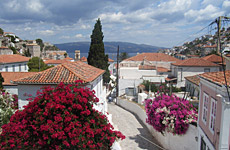 Situated 3 minutes' walk up a street from the harbour-front this historic building has been made into a most attractive boutique hotel of VIP rooms, right in the centre of the village.

Air-con, TV, phone, hair-drier, safe. The rooms have balcony/ veranda, private jacuzzi, sat.TV. B&B.
Enquire about: flights + accom'n at Hotel Angelica