Crete
Martian Risk: considerable, but avoidable: see text.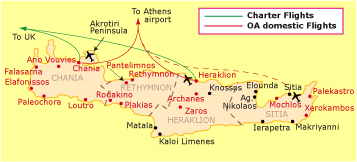 First impressions
More a separate country than a typical Greek island and notable for having more antiquities than any other island except Delos. Car hire is therefore usually desirable – the surprisingly good roads make driving a pleasure, especially for the frequent breathtaking panoramas - and often essential. Crete's mix of high mountain ranges along its spine, riven with spectacular gorges, caves famous for housing the resistance during WWII, mediaeval stone villages and untouched sandy beaches contrast with the over-development that has turned much of its north coast into Con-Crete. Hidden Greece features only the quieter, unspoilt places, mostly on the west, south & east coasts but some in the stunning landscape found just half an hour's drive inland. The contrast between the traditional island farming life of the interior and the discos, high-rise hotels, noise and bustle of the crowded resorts on the north coast could hardly be more striking.
Activities
The walking amongst mountains (to mythical caves) and down gorges is unbeatable. The scenery, wildlife, flowers and plants (including towering hedges of oleander fringing many of the roads) is unrivalled in Greece. Water-sports are available but mostly in Martian-ridden major resorts, but you can limit your exposure to the Martians by making only day visits to them, returning for the night to your chosen Hidden Greece retreat.
Getting there
Direct charters to Heraklion from most regional airports (and to Chania from a few) cater for those happy with 7 or 14 nights on a specified day of the week (normally Tues). Scheduled services from Heathrow & Manchester with quick connections in Athens to Heraklion and Chania, plus 3 or 4 services per week Gatwick-Heraklion offer more flexibility.
Plus points
The opportunity to experience car touring as something pleasurable and, with that car, to encompass within one day beaches on the north coast with beaches on the south. Has some of the finest archaeological sites in Greece.
Minus points
In high season the strong dry northerly meltemi wind brings cloudless skies but rough seas which can make swimming dangerous on some beaches, especially on the north coast; but it air-conditions the temperature. Flocks of Martians throng much of the north coast, but you can mostly avoid them with our guidance.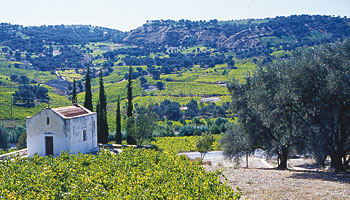 Descriptions and pictures of each destination follow below; a table of guide prices completes the section. The seasonal dates for each unit of accommodation are listed at the end of each description in the RH panel of this page.


Chania
Ano Vouvies
Falasarna
Elafonissos
Paleochora
Loutro
Rethymnon Town
Patelimnos
Rodakino
Plakias
Heraklion
Archanes
Zaros
Mochlos
Palekastro
Xerokampos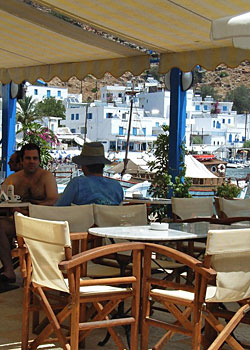 Harbour-front cafes in Loutro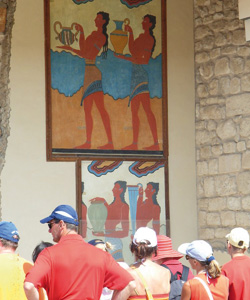 Crete - Knossos: Minoans (background) & Martians (foreground)