CRETE
Central Crete

Rethymnon
The old city, a maze of narrow streets running down to the Venetian Harbour and to a large beach which attracts some Martian life from the large hotels further east along the coast. There's a lot of Turkish influence in the architecture, as a mosque with minaret might suggest. It has a similar charm to Chania's, but is considerably smaller. We consider it more a place for just a night or three to absorb the character, architecture and museum – plus a spell on the vast sandy beach.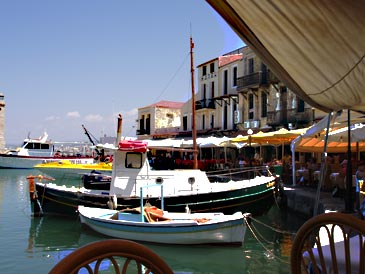 Pantelimnos
A tiny village set in hill-country about 25 km SW of Rethymnon. Your first impression is of being in the middle of nowhere – which in many ways you are, except that nowhere is very far away. There are wonderful views down to the sandy beach at Georgioupolis but all round you are small farming settlements and small off the beaten track ancient sites inviting exploration. If you want a swim, you can reach the north or south coast (Plakias area) in as little as half an hour.
Rodakino
Driving east from Chora Sphakion you pass the Venetian fortress of Frangokastelo with a fine beach and taverna. Then a winding, scenic stretch brings you to Ano Rodakino (rodakino = peach) in a steep valley. About a mile below the village is the nearest beach, but westwards over the headland (or, better, by roughish road two hundred metres inland) you reach miles of sandy beach, almost always deserted.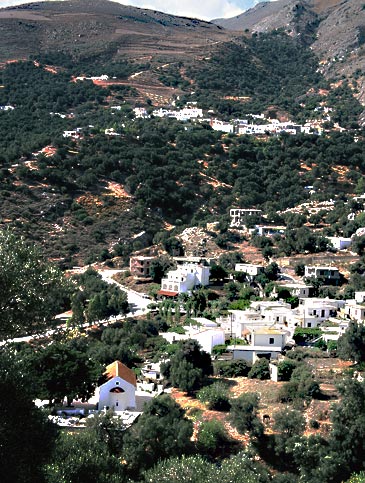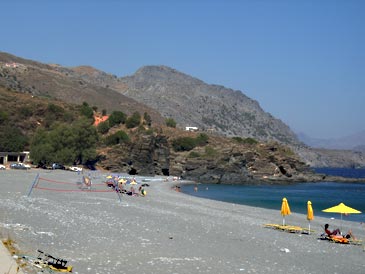 Plakias
Plakias used to be just a few houses and a jetty, but a few hotels have sprung up along the bay. In high season it can become busy with some Martian presence. We feature it, however, because the facilities (including a little night-life) may suit some mixed groups and because of the exceptional sandy beaches and coves supplementing the main beach; there is plenty to see, such as the Monastery of Preveli (above probably the area's finest beach) and good walking, including the Kotsifou Gorge.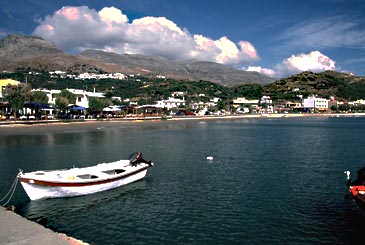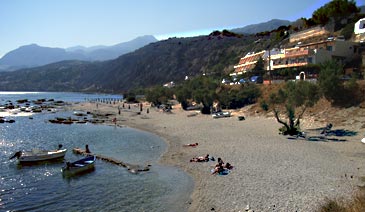 Heraklion
We treat Crete's capital city mainly as an overnight stop – perhaps 2-3 for the keen archaeologist. Although lacking the cosy charm of Chania or Rethymnon, it has become much pleasanter due to pedestrianisation. It houses the famous Archaeological Museum, which brings nearby Knossos to life, and its impressive mediaeval walls and Venetian fort make it worth some exploration. It has a lively atmosphere by day and night. It is the starting point for organised excursions (or just the local bus) to Knossos.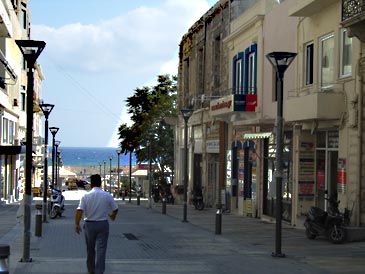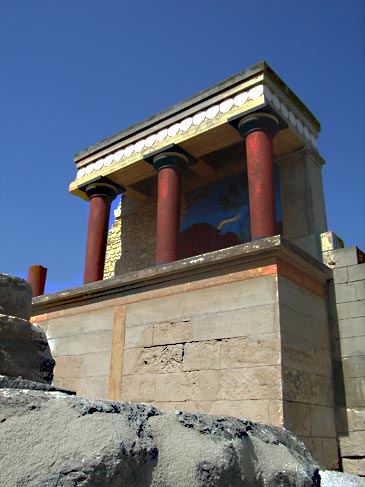 Archanes
A clutch of farming villages a little south of Knossos in this area are becoming popular as retreats for a few well-heeled inhabitants of Crete's capital. It is not surprising, because they are so near to the city, have such a wonderful panorama and yet a feeling of rural remoteness. Traditional farming is still practised and there are pretty villages of stone houses, many on steeply rising hillsides. You are well placed here, with the archaeological site of Knossos just a few miles down the road (and Heraklion only a matter of minutes beyond it) to the north, whilst to the south the main road leads to probably the least developed shores of the south coast. The Aghios Nikolaos/Elounda resort area lies just beyond Lassithi, so there is huge scope for exploration. There is wonderful walking in the Dikti mountains – see the Sunflower Guidebook to Eastern Crete.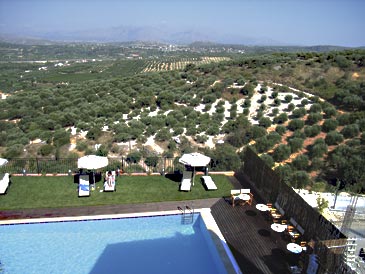 Zaros
The country town of Zaros provides a wonderful base amid stunning scenery. To the north rises the massif of Mount Ida, offering treks to the Kamares Cave; just to the south is the Plain of Messara, a carpet of fertility changing colour according to season; on it are three of Crete's major archaeological sites – Phaestos (worth visiting just for the views!), Gortys and Aghia Triada. Beyond the plain lies the sea: to the west is Matala, famous for its sandy beach, cave-pocked cliffs but tatty waterfront; to the south lie the more attractive beaches of Lentas and Kali Limenes, though the latter's picturesque qualities are somewhat reduced by the oil-tankering installation in the bay.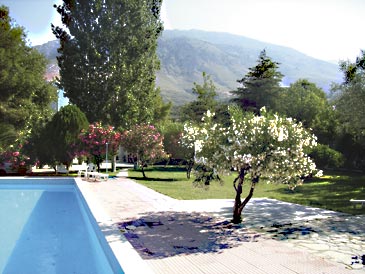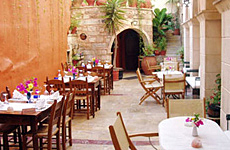 Slap in the centre of the old town, a few minutes from the harbour and less from the mosque. Bar, restaurant and garden courtyard.
Cat A. Air-con, sat.TV, phone, kitchenette. RO (breakfast extra – you have a kitchenette!).
Enquire about: flights + accom'n at Veneto Suites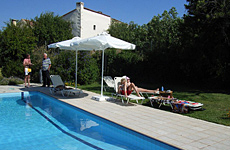 Set in hill-country about 25 km SW of Rethymnon, this villa has two sections for 4 or 6 persons separately or jointly for 10. Wonderful views down to the sandy beach at Georgioupolis. A large pool with lawn and barbecue tempt you not to leave; but do, because the walking, the pretty villages and small ancient sites invite exploration. If you want a swim, you can reach the north or south coast (Plakias area) in as little as half an hour. Several tavernas within easy if you don't want to cook. Small House has two raised double-bedded sleeping platforms, a bath/wc, a sh/wc, spacious sitting and dining areas and excellent kitchen. Main House has 3 bedrooms, 3 sh/wcs, sitting room, dining room & kitchen.
Air-con, pool, sat-TV, CD player, hair-drier, phone. S/C
Enquire about: flights + accom'n at Abelos Villa

St George Hotel, Rodakino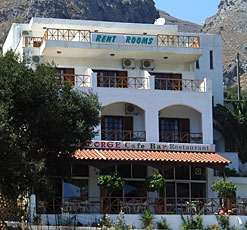 A small hotel run by a Philippina and her Greek husband. There's a shady eating terrace with unusually spacious rooms above, all with balconies overlooking the lush landscape and sea beyond.
Air-con; fridge. B&B.
Enquire about: flights + accom'n at Hotel St George

Christos' Taverna, Plakias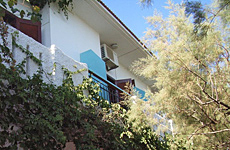 Overlooking the jetty in the old village near the shops. The simple rooms are above the taverna whose garden restaurant is one of the best.
Rooms have fridge. RO.
Enquire about: flights + accom'n at Christos Taverna

Hotel Irini, Heraklion
Picked primarily for its situation in the centre almost behind the museum and near the shopping streets, the bus station and a million bars, restaurants and tavernas. Considering its position it is also quiet, though all Heraklion suffers a bit from aircraft noise as the airport is so near.
Cat B. Air-con. B&B.
Basically used only for overnights, so costed into whole package.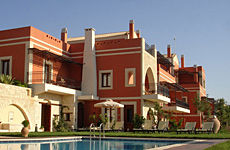 Probably our Cretan flagship – and it's open year-round in a location 20 km from the airport, perfect for a short winter break. This cluster of 14 luxuriously designed, furnished and equipped suites has the most wonderful panorama across to Lassithi and the Dikti mountains. There is a large pool with grassy terraces surrounding it; a vault-like dining room for a drink and some socialising and a breakfast room/café terrace two floors above. Food, mostly local and organic but there are also local tavernas in surrounding villages a few minutes away.

Air-con, c/heating; safe-box, internet connection, phone, sat-TV, DVD & CD player, hair-drier; balcony or terrace; bathroom with Jacuzzi (double Jacuzzi in the honeymoon suite! Excellent kitchens. Some suites have fireplace, some have washing machine. S/C 2-4 pers.
Enquire about: flights + accom'n at Katalagari Country Suites

Hotel Idi, Zaros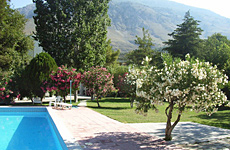 A main building plus attractive two-storey garden rooms in the flowery grounds with a large swimming pool. The peaceful atmosphere enhances its strategically convenient location. There's a working mill just outside the front door and a taverna which doubles as the hotel's restaurant. The hotel attracts some groups, but the grounds are spacious, green and uncrowded.
Cat. C. Air-con. B&(buffet)B.
Enquire about: flights + accom'n at Hotel Idi

A splendidly refurbished hotel set on rising ground immediately behind Heraklion's Venetian harbour with spectacular views. A few moments on foot from the restaurants, shops and life of the centre and close to the archaeological museum. Art deco in style with excellent modern state of the art fittings and furnishings. Junior, family and executive suites available.
An excellent choice for a winter stay when rates are lower than low season!
All rooms with balcony or veranda overlooking harbour or city Restaurant (FB or HB on request); sat TV, mini-safe, hair-drier, air-con. B&B
Enquire about: flights + accom'n at Lato Boutique