CYCLADES
Kythnos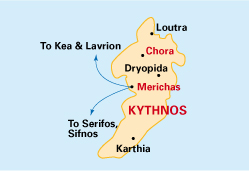 Size: 20km x 10
Martian Risk: Nil
Kythnos is reputed to have 50 good beaches, 30 of them accessible by scooter; the rest by parachute. Or boat. Or foot. At Loutra, a spa town in the NE, Athenians congregate to take the waters, presumably tempted by the fact that its restaurants are staffed by waiters offhand enough to make them feel totally at home; happily you do not need to stay there and we suggest you don't. Merichas is a sleepy port with a passable sandy beach and all buses and summer boat trips start here.
Chora, however, perched on a hill, is a revelation, an enchanting village of narrow streets, tiny squares and surprisingly sophisticated restaurants which make it the fun place to stay - walk right through it and you come to the much advertised Wind Park – which doesn't mean the locals are particularly prone to flatulence, just that it was a good place to put up a few flapping pylons to catch the breeze.
There are plenty of beaches, notably Apokrousi and Kolonia, little over 3km away. Indeed it is a wonderful island to explore for deserted beaches, several with tavernas. The views from the spine running south from the fascinating old town of Dryopida are breath-taking.
Getting there
The gateway airport is Athens. For Kea head south to nearby Lavrion – it is not served from Piraeus; take the bus or hire your car, drive to Lavrion, drive on to the ferry and off at the first stop, Kea. For Kythnos there are ferries from both Lavrion and Piraeus. For Serifos and Sifnos there are fast ferries from Piraeus.
This group has always been very popular with the Greeks themselves, with most tourists traditionally limiting themselves to Sifnos, the largest, though Serifos is slowing catching up. Kea and Kythnos are, in our view, conspicuously under-rated and should be on every Greek island enthusiast's list. We are trying to do our bit! It is curious that this group, the nearest to the mainland and amongst the easiest and quickest to reach, should have remained less visited than their better known neighbours to the east.