WESTERN CYCLADES
Client Reviews from Sifnos
Just a note to let you know how much we enjoyed our holiday at Petali Village Hotel in Sifnos. The hotel itself was perfect for us: it was run by friendly, helpful people; the view from the terrace at breakfast was beautiful and the hotel was spotlessly clean. We used the car every day to go to different beaches to swim. We loved the island - it was very pretty and uncrowded. We can't wait to go back - 6 ˝ days there was not long enough! Also your idea of giving your clients a map is a very good one – it was great to have it with us right from the start.

HG 9003

We loved Folegandros and the Anemomilos Apartments were superb – the only problem was a cold wind at night, but I think we were just unlucky with the weather.

Sifnos was also lovely but not quite so special. The Hotel Petali was a bit impersonal and couldn't live up to Anemomilos and we would have appreciated being told to get a taxi from the harbour on arrival. The bus was fine but we didn't realize how many steps we would have to lug our suitcases up. Wonderful walking on both islands – great paths on Sifnos and really good map plus excellent bus service.

HG 8006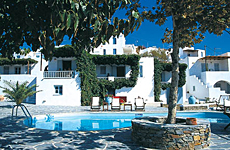 A hotel of great character, quietly situated near the centre with wonderful views across to Paros and other islands. The free-form pool is shaded by trees and equipped with loungers and the bar is nearby. You can relax in style and comfort here.
Cat B superior; pool with jacuzzi, internet, air-con, TV, phone, mini-fridge, safe-box, hair-dryer, veranda. B&B.
Seasons
Peak 21/7-30/8
High 1-20/7
Mid 1/6-14/9
Low 1/1-31/12
Website: www.petalihotel.com
Please mention Hidden Greece

Margarita Apartments, Faros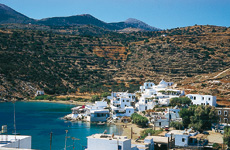 Airy position overlooking the village – sea view from most rooms. Studios, two bedroom apts with/without living room, all with kitchenette.
TV, air-con ,coffee machine, balc/veranda. S/C 2-6 pers.
Seasons
High 11/7-24/8
Mid 1/7-31/8
Low 1/5-31/10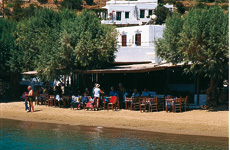 On the beach, next to the taverna at its far end. The studios have three single beds (apartment has twin + twin sofas in living room), kitchenette and large balconies.
Air-con. S/C 2-4 pers.
Seasons
High 4/7-31/8
Mid 6/6-11/9
Low 8/5-20/10
Website: www.xanthakis-sifnos.gr
Please mention Hidden Greece

Angeliki's, Platys Yalos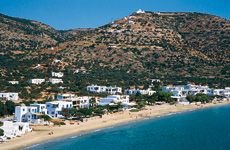 Angeliki's: third building from left behind trees

On the beach near the end of the road and bus to town. Shady terrace overhangs the beach. Simple, but clean and nice.
TV, fridge, air-con, balc. RO.
Seasons
High 1/7-31/8
Mid 15/6-15/9
Low 1/5-31/10
Website: www.sifnos-ageliki.com
When you book, remember our