CYCLADES
Paros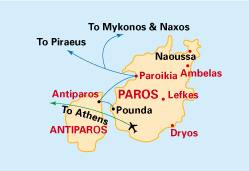 Size: 25km x 20km
Martian Risk: A little
The old town of Paroikia is one of the most captivating in the Cyclades, easily rivalling Mykonos in charm but with far less noise and exhibitionism. Separated from the sea by the steep sides of the Venetian Castro, it has good shops, restaurants, tavernas and some quite lively night-life. Across the capital's wide bay are sandy beaches reached by caique in a few minutes, but fine beaches abound all round the island, (good windsurfing on the SE corner) and all served by bus.
The tiny harbour of Naoussa in the north is worth a visit, despite its surrounding sprawl containing most of Paros's modest collection of Martians. West from Naoussa is a sheltered bay on whose far side at Kolimbithres you will find smooth rocks reminiscent of the Costa Smeralda. A little SE of Naoussa on the east coast facing Naxos, lies the hamlet of Ambelas, where you find signs of a slowly-awaking village with a gorgeous view across the straits to Naxos. In enchanting Lefkes, the island's old capital, you will find no crowds, fascinating architecture and at least one decent restaurant in this often overlooked gem of a village. Right in the south near the water-sporting Golden Beach is Dryos, the perfect choice for a tranquil stay with enough beaches, tavernas and the odd shop to satisfy all but the hyper-active.
A road runs right round the coast of Paros and to circumnavigate it is rewarding – stunning panoramas across to neighbouring islands and plenty of attractive places for taverna stops. On the quite gentle slopes of the mountain which forms the island's centre you will find Paros's Valley of the Butterflies. Theoretically these creatures will be on parade from about May to August, unless they get tired of people shaking the branches they perch on to acquire the confetti effect.
Activities
Walking to monasteries on the mountain slopes, panoramas from the mountain tops. A variety of water-sports near Dryos in the SE and at Pounda in the W. Being a major shipping hub, it is easy to visit Naxos, Mykonos & Delos, Ios and Santorini.
Plus points
One of the most easily accessible islands in the Cyclades group. Tremendous charm of its [seaside] capital Paroikia and its former capital Lefkes and the historic area encircling the toy harbour of Naoussa. Many excellent beaches and water-sports.
Minus points
One might hope for less new building round the outskirts of Paroikia and Naoussa. There's an unseemly traffic jam in Paroikia mid-morning and early evening when the ferries arrive in glorious procession – but you may find the bustle fun and the police trying to regulate it the chance for a quiet giggle.
Getting there
Mykonos is probably the best gateway for Paros. Alternatively you can fly on any day by scheduled flight to Athens and continue to Paros either by "connecting" domestic flight or, due to the increasing number of comfortable fast ferries from Piraeus direct to Paros; it's often quicker than waiting for the plane.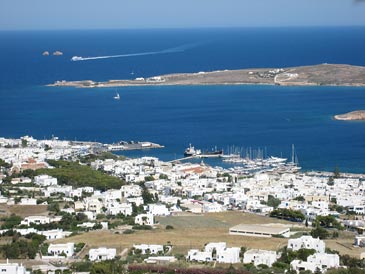 Paros: view of Paroikia harbour and bay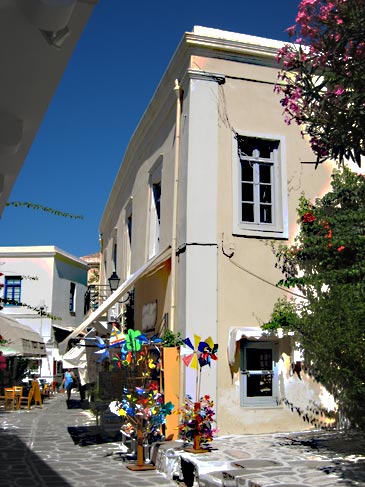 Paros: Paroikia's old town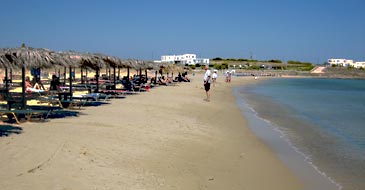 Paros: Golden beach - perfect windsurfing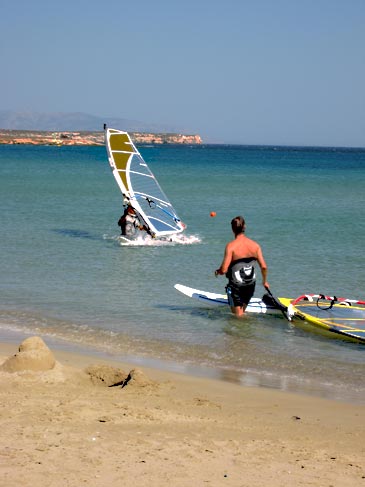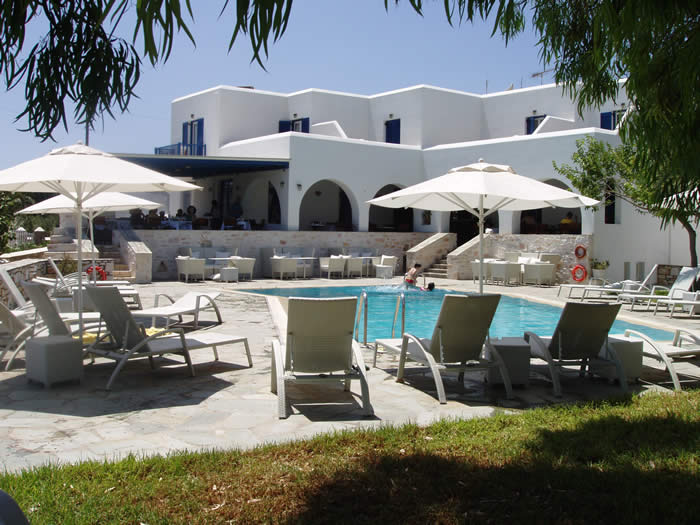 Another gem, right by the sea. Forty family-run rooms grouped round a large pool. The small private beach is a few yards down a path overlooked by second pool. Airy reception/dining area. Rooms excellently appointed. Small reportedly underequipped gym. Walk along the shore one way to Golden Beach (10 mins) for windsurfing; the other way to Drios harbour (10 mins) for restaurants.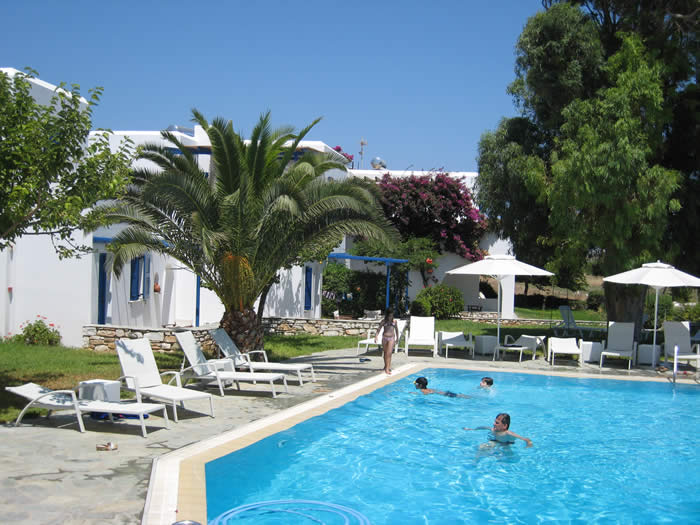 Cat C. Air-con, fridge, safe, sat TV, tel, veranda with SV; restaurant. B&(buffet)B.
Enquire about: flights + accom'n at Hotel Boudari

Eight studios in a quiet part of Paroikia, near the old town. Most rooms have balconies and there is a vast roof terrace from which you can watch your ferry leaving before actually missing it.
Air-con. TV. S/C 2-4 pers.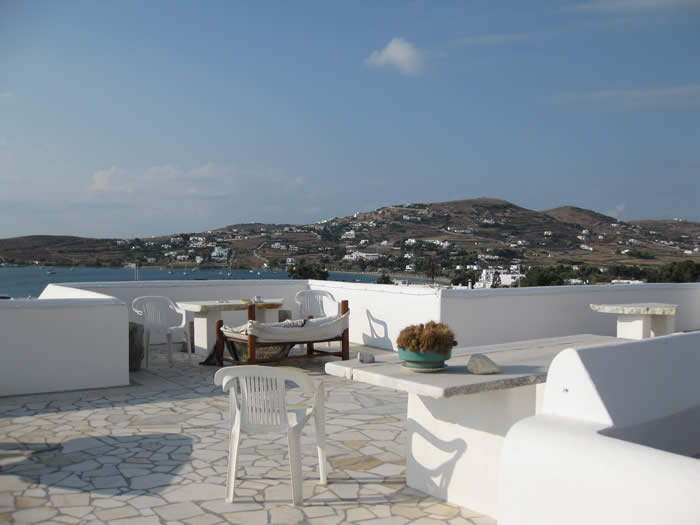 Enquire about: flights + accom'n at Moschoula Studios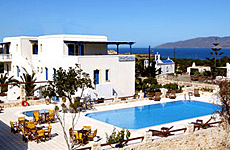 A family-run hotel at the picturesque fishing village of Ambelas. In unusually spacious surroundings the hotel has a large pool and is 200 metres from the sea. The refurbished accommodation is of a good standard.
Pool, air-con, TV, hair-drier. S/C. Wheelchairs welcome.
Enquire about: flights + accom'n at Margarita Studios

Aegean Balcony Villa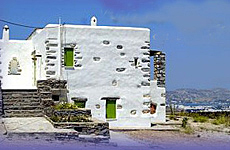 Renovated stone house on a hill-top 5km out of Paroikia. Stunning views over the town to nearby islands, wrap-round terraces, glorious seclusion and indoor plunge-pool on lower ground floor. Available year round; car essential.
S/C (3 bedrms, 3 sh/wcs): 6 pers.
Enquire about: flights + accom'n at Aegean Balcony Villa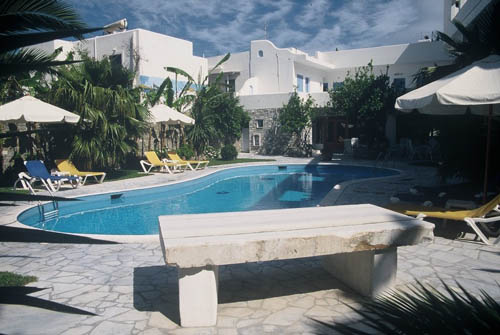 The Galinos has a free-form pool in flowery grounds behind the L-shaped hotel. The newly refurbished rooms all have a balcony and there's a bar/breakfast room opening on to the garden and pool. One of the town's best tavernas is directly opposite and the narrow alleyways start within a hundred metres of the hotel. Adults only.
Enquire about: flights + accom'n at Hotel Galinos