CYCLADES
Naxos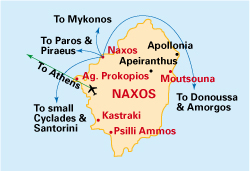 Size: 45km x 30km
Martian Risk: Some near Naxos town
Naxos is the largest of the Cyclades, with pretty villages in its mountainous interior and wonderful sandy beaches. The capital has a busy harbour backed by the Labyrinth, a jumble of alleys rising steeply to the magically quiet citadel, visible from miles offshore. There is a good bus service and caiques operate to the wonderful sandy beaches nearest town. Scheduled ferries and local excursion boats make it easy to visit Mykonos/Delos, Paros, Ios and even Santorini without having to stay away overnight.
Moutsouna on the remote east coast is the starting point for the newly asphalted road leading down to the south past a string of beautiful, almost untouched, sandy coves. The village harbour itself is fascinating – it combines industrial relics of the cable railway system bringing bauxite from the now disused mines in the hills above down to the loading jetty which is still in situ. Overlooking this rather exceptional historical site is a row of beach-front tavernas shaded by trees and blessed with a lovely view in a tranquil setting.
The west coast, which can get blowy in Meltemi season, is a series of wide sandy bays. Inevitably there is some development on many of these, but so far it is not offensive. The Agios Prokopios/Agia Anna/ Plaka beach area, well served by bus from town, offers a lot of small scale accommodation, many sandy beaches, some shops, tavernas and restaurants. Just round the point on the SW tip lies Psili Ammos, a vast expanse of sandy beach with a wonderful feeling of remoteness. There is good windsurfing on Plaka beach and at Mikri Vigla a little further south.
Activities
There is plenty to do on Naxos. There are hills to climb, monasteries to reach and a little archaeology; above all, there's wonderful walking. Several guide books are available, the best probably being Graf Editions' Naxos & the Small Cyclades which has good maps and whose text is sprinkled with grid references so bring your GPS. The beauty of the walks (apart from the intrinsic attraction of the views, vegetation, ancient remains etc) is that there are circular routes, enabling you to drive to a starting point and finish there at the end of the day; and others – even better perhaps - which involve one bus to the starting point and a different bus back from the end. This works particularly well for several walks starting from the fascinating old town of Apeiranthos, high up above the east coast, and culminating in the delightful village of Chalki where there is a highly recommended taverna for a late lunch.
Plus points
The wonderful green and fertile valleys of the interior and the majestic mountains enclosing them – all perfect for walking. Many pretty old villages – perhaps Apeiranthos and little Halki deserve special mention - feature on the walking routes, as do ruined castles and deserted monasteries. The island has some of the best sandy beaches in Greece. With the harbour-front now virtually traffic-free, Naxos town is a splendid setting for a drink or a meal. Good bus service.
Minus points
It's a pity the handily placed airport has so few services linking the island with Athens (or anywhere else). Dress code in the town? Anything you like as long as it's not a car - parking is a nightmare.
Getting there
There are direct charters from Gatwick and Manchester on Fridays (and scheduled services three times a week from Gatwick to Mykonos, the best gateway for Naxos. Alternatively, the increasing number of comfortable fast ferries from Piraeus gives you the option of taking one of several flights daily from Heathrow to Athens and sailing from nearby Piraeus.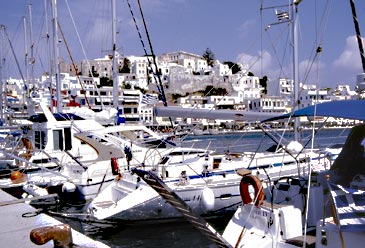 Naxos: the citadel from the harbour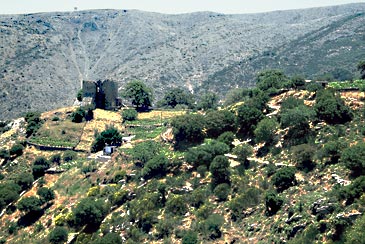 Naxos: superb walking territory (Photodotou Monastery)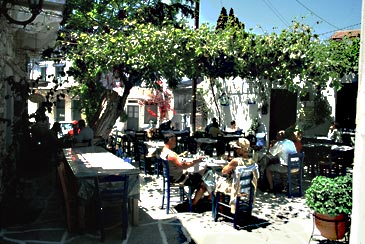 Naxos: ideal terminus of many walks - the taverna at Chalki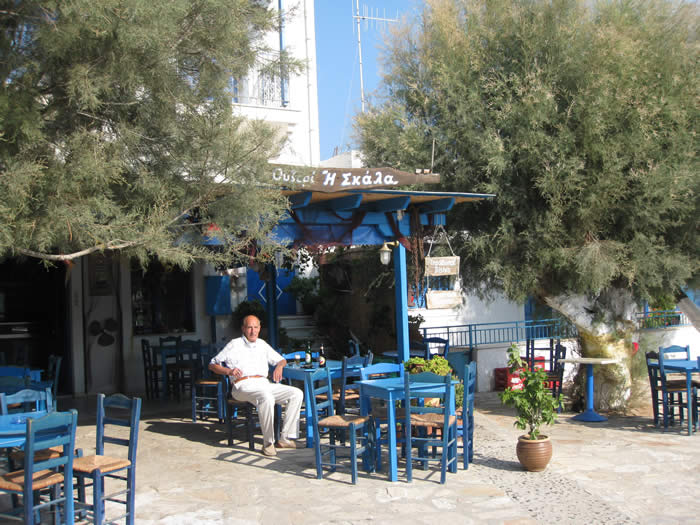 A harbourfront taverna at Moutsouna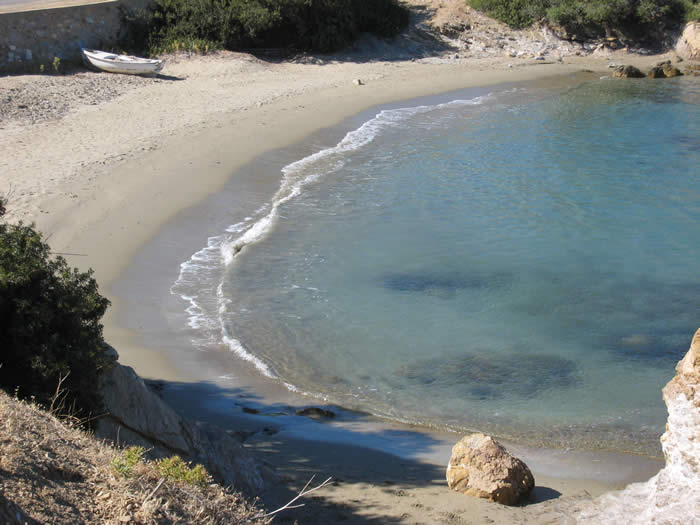 Kleidou beach, south of Moutsouna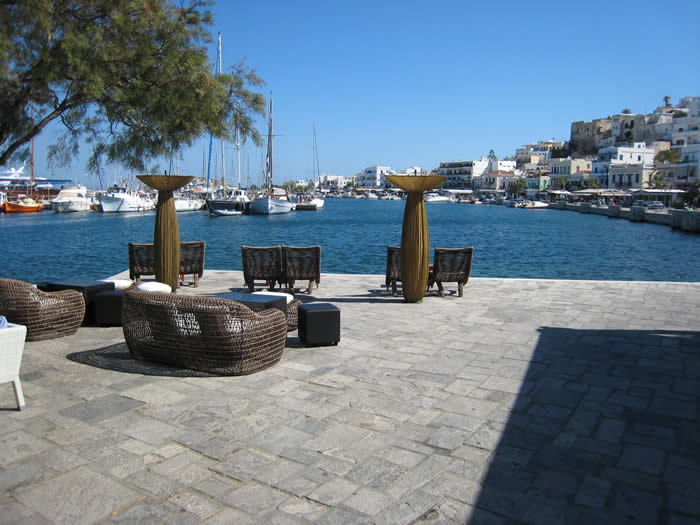 Naxos harbour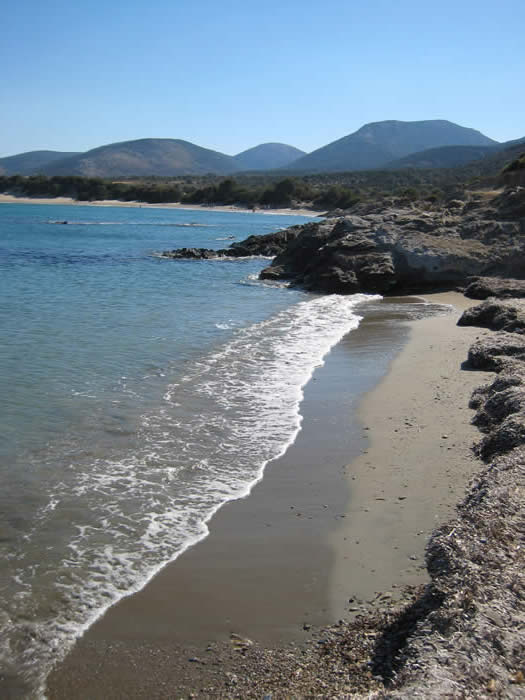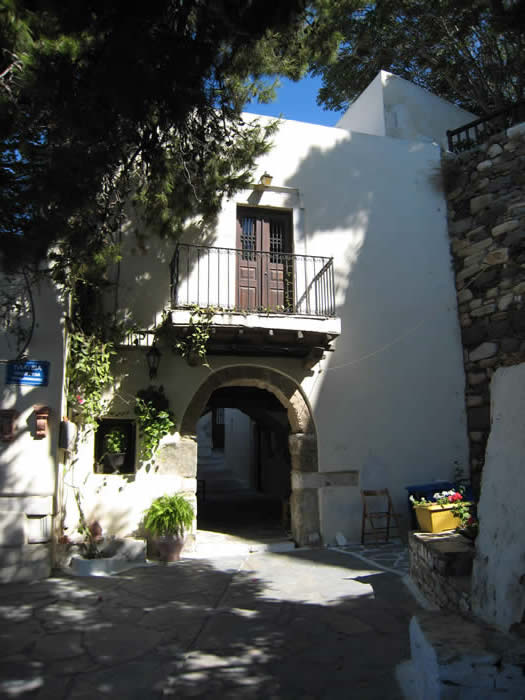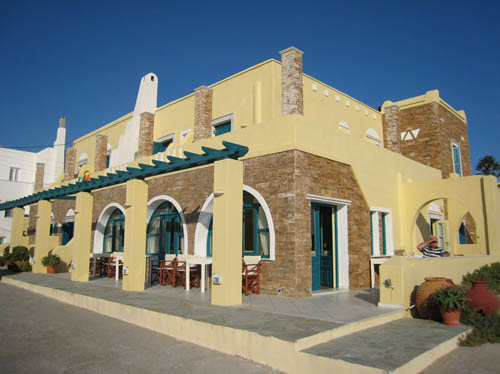 Set on the cliff 15 minutes on foot from the harbour, this is ideal for sunset-watchers. Imaginatively refurbished, it offers a high standard within easy distance of town. Some rooms open on to a cool patio.
Cat C; air-con, keep-fit room with jacuzzi, TV, fridge, hairdryer. B&B.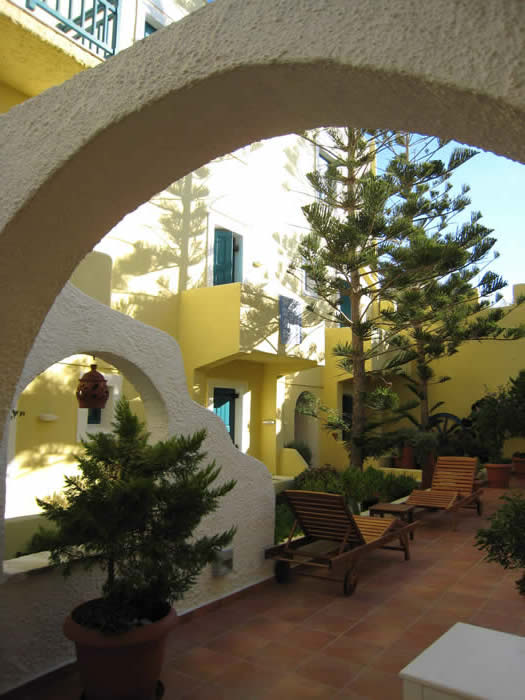 Enquire about: flights + accom'n at Hotel Grotta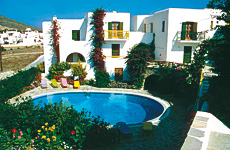 Almost invisible under the bougainvillea, the Pagounis is a hybrid – basically self-catering but you can purchase breakfast. Designed like a Cycladic village, the balconies and terraces have sea view and there's a small pool at the front. The beach, shops and tavernas are a few minutes away on foot. Good bus or taxi service to town. An excellent base for a group with teenagers.
Cat.B; air-con, sat TV, phone, optional breakfast. S/C 2-4 pers.
Enquire about: flights + accom'n at Hotel Proteas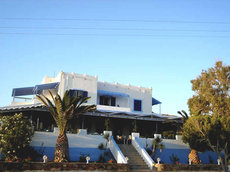 Overlooking the vast empty beach, the taverna offers meals on its shady terrace with some studios and apartments upstairs. We have had no reports of noise probably because it is an obvious Mecca for lunch but too remote to attract people for dinner.
S/C 2-4 pers.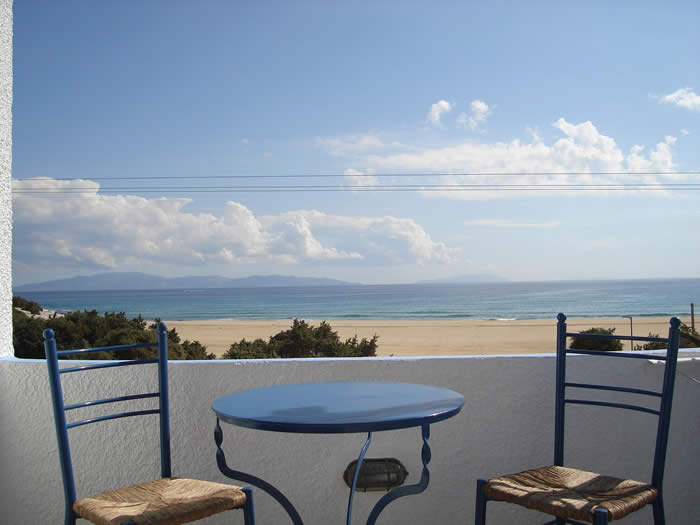 Enquire about: flights + accom'n at Psili Ammos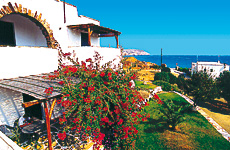 By the gate is Giannis' taverna on the sea, serving some of the best food on the island. Behind in grassy lawns are the bougainvillea-clad studios, plus one apartment. Between the two Giannis has recently installed a beautiful large swimming pool. Almost every room has a sea view across to mountainous Donoussa. The village is a short stroll away and a string of sandy bays runs southwards for ever.
Air-con, pool. S/C 2-4 pers.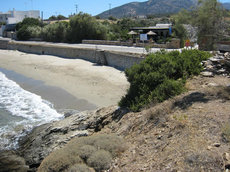 Enquire about: flights + accom'n at Hotel Ostria

Golden Beach Studios, Town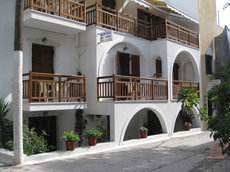 About a three minute stroll from the long horseshoe of sandy town beach skirting St George's Bay and perhaps 10 minutes' walk from the main harbour, these studios are quiet, comfortable and well appointed if fairly simple. The landlady is charming and helpful. air-con, free wifi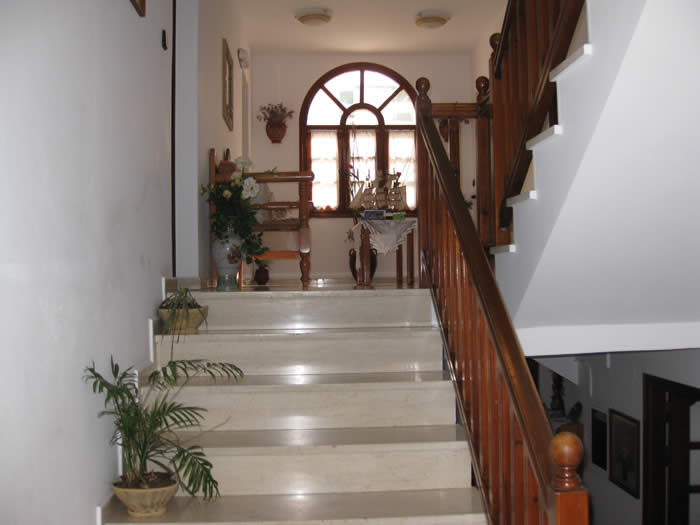 Enquire about: flights + accom'n at Golden Beach Studios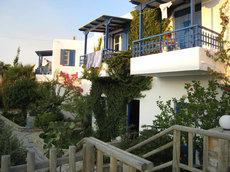 For those wanting clean rooms with a terrace onto a flower covered garden , behind one of the best beachside tavernas on Naxos, and then a mere 20 seconds from possibly the longest white sand beach in the Aegean, this has to be the spot! Bus to Naxos in 25 minutes, every half hour in summer. Pure relaxation.
Fridge, air-con; RO.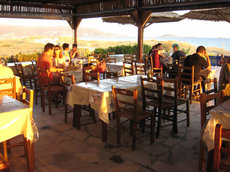 Enquire about: flights + accom'n at Three Brothers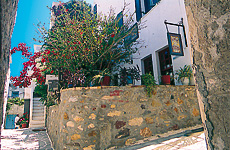 Lovingly restored in island style, this historic mansion nestles against the citadel's walls. There's a cosy breakfast room on the ground floor, an airy atrium and a good view of the harbour from the top floor roof garden.
Cat.B; air-con, hairdryer, safe, TV. B&B.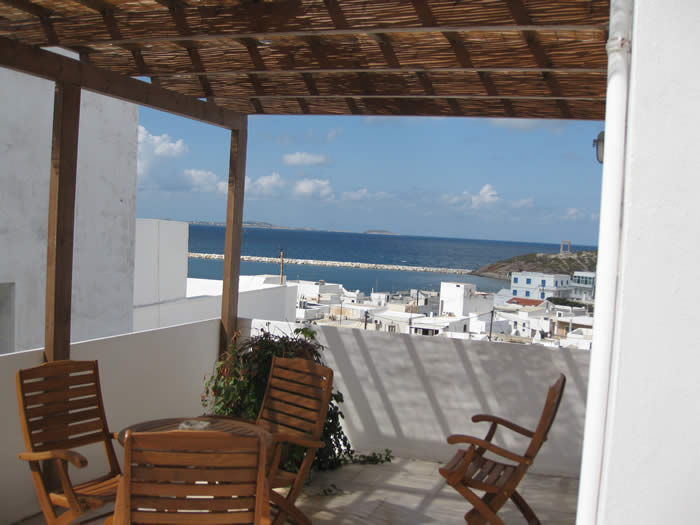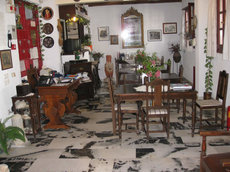 Enquire about: flights + accom'n at Chateau Zevgoli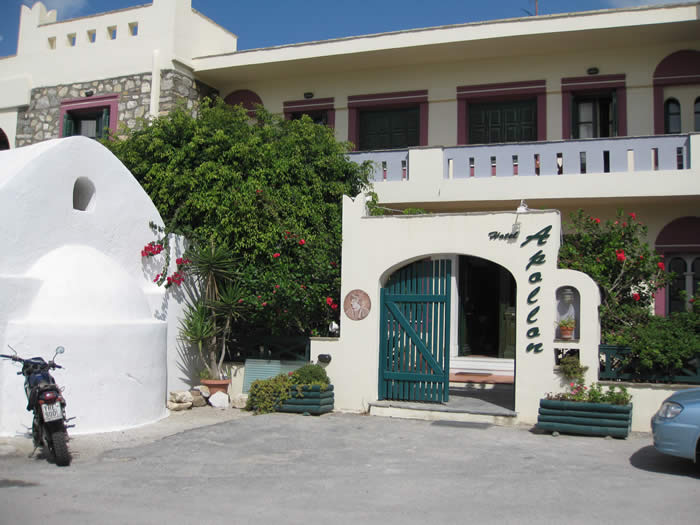 Another restored mansion, the Polly is five minutes' walk from the harbour on the level. It offers comfortable well-equipped and furnished rooms, most with balcony.
Cat.B; air-con, TV, fridge, hairdryer, mini-bar, phone, safe. B&B.
Enquire about: flights + accom'n at Hotel Apollon