CYCLADES
Mykonos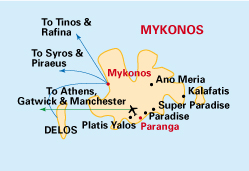 Size: 15km across by 12km max
Martian Risk: It depends what you mean by Martians - see text
Let us grasp the nettle: Mykonos is not Hidden Greece. But, then, nor are parts of Crete, Santorini, Samos etc. Mykonos is a special case: its stunningly picturesque village of narrow streets is world famous and attracts cruise liners by the blue-rinse fleet; the nearby staggeringly huge (there's nothing else on the island) archaeological site of Delos brings rather smaller ships of erudite classical buffs; the wonderful sandy beaches appeal to a wider market but, perhaps because it is not a cheap island, the mass market operators hardly feature it, so that Martians in our sense of the word are fairly few and far between.
Try to climb up the hill behind the picturesque village (with your hand-held GPS if you like) and use the panorama of the intricate alleyways to orientate yourself. Talking of which, it doesn't matter these days what orientation you or anyone displays on Mykonos – anything goes but, that said, it's easy to spend a week here and be unaware of the orientation of those circulating on the island unless you are on a people-watching holiday. And if you are, you won't need the GPS.
Mykonos is blessed with some of the best beaches in Greece. All along the south and east coasts are long swathes of lovely sand; on the beaches nearest the town there is considerable development but the further east you go the more pristine the land becomes. Almost every beach has its taverna (or three) and most are served by bus. Many cater for the absent-minded who consistently forget their swimsuits.
Most people seem to choose hotels in town, presumably because the restaurants and night life are on the spot; but there are hotels on quiet bays and on bays with night-life to the small hours, so take your pick from the descriptions we offer. The standard of accommodation runs from luxury to simple – but on this island transfers to/from port or airport are exceptionally included
Activities
Probably better not to ask, but basically (as the old army phrase has it) "if it moves, f*** it; if it doesn't, paint it white." For something completely different, be sure to make a day visit to stunning Delos or perhaps northwards to Tinos, as thoroughly Greek as Mykonos isn't.
Plus points
The visitors.
Minus points
The visitors.
Getting there
There are direct charters from Gatwick and Manchester on Fridays and scheduled services three days a week from Gatwick. Alternatively, you can fly any day on scheduled services from Heathrow to Athens and on to Mykonos by domestic "connecting" flight. The fast ferries from Piraeus (and Rafina) can sometimes permit a faster overall journey than using a domestic flight.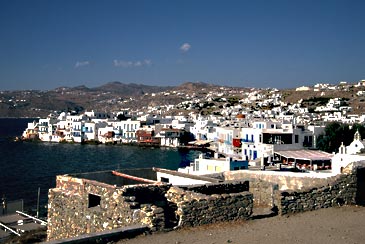 Mykonos: the water-front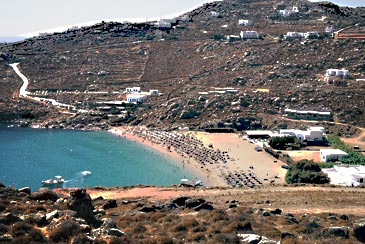 Mykonos: Super Paradise beach

Mykonos: not unknown for its night life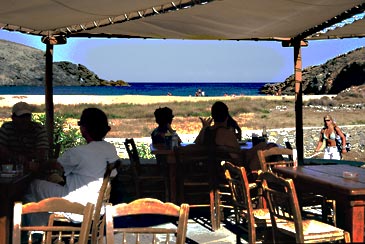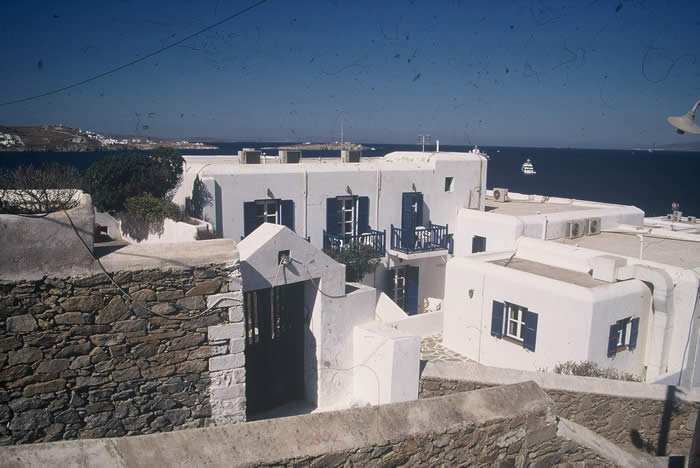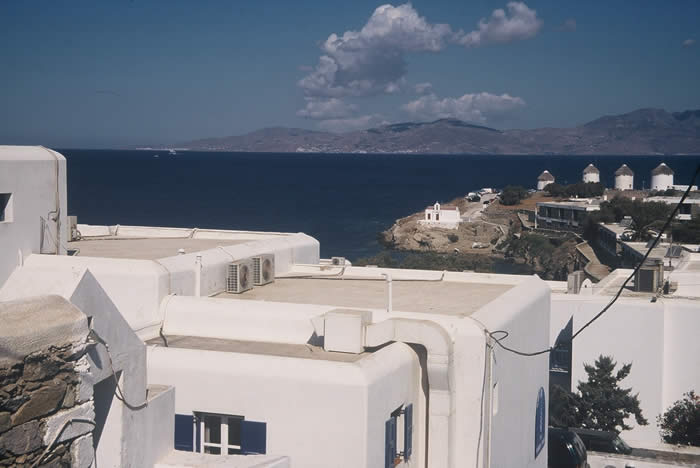 A comfy hotel a stone's throw from the town and the bus stop for all the beaches. The cosmopolitan clientele are splendidly looked after by American Roz and her Greek husband Michael. Newly fitted gym and sauna.
Cat C; air-con, sat TV, fridge, hairdryer. B&B.
Enquire about: flights + accom'n at Hotel Mykonos-Adonis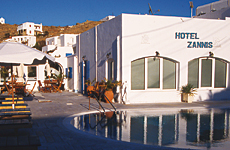 Up a steep slope from the bus stop. The secluded patio contains a lovely pool making this a splendid spot for recovering from a heavy night out. Excellent accommodation, all rooms with big balcony, most with sea view over the town.
Air-con, sat TV, phone, fridge, safe-box. B&B.
Enquire about: flights + accom'n at Hotel Zannis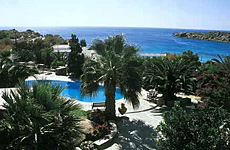 A real gem, beautifully run by Vayos who takes a personal interest in his clients' well-being. The breakfast terrace overlooks the large pool which overlooks the sea and its tavernas and bars. Small gym.
Cat C; air-con, sat TV, hairdryer, phone, balcony with SV. B&B.
Enquire about: flights + accom'n at Hotel Zephyros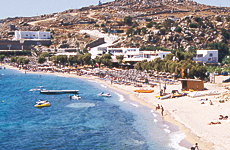 Right on the beach, so perfect for those who sleep from 4 a.m. to noon.
Pool overlooking beach; air-con, fridge. B&B.
Enquire about: flights + accom'n at Freddys Rooms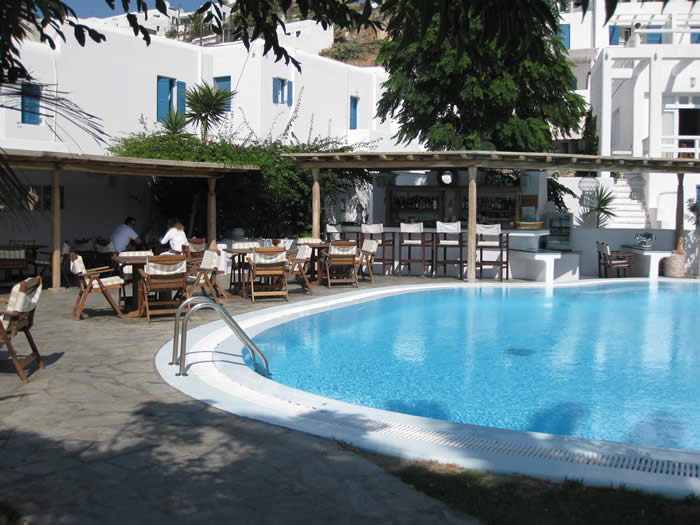 Hotel Leto, in an unrivalled position in its walled garden beside the old harbour, the island's original A class hotel, is unfortunately CLOSED FOR THE DURATION
However one part of the superb Leto complex - Island Mykonos Suites & Studio - is open. It consists of two suites, an apartment and five studios.
Enquire about: flights + accom'n at Island Mykonos Suites