CYCLADES
Donoussa
Martian Risk: Nil
Donoussa is a collectors' item: out on a dog's leg of a diversion for the Skopelitis. Despite the port, Agios Stavros, being very small, there are actually two other villages in the interior, offering nice walks to keen explorers. On the road leading there you pass excellent sandy beaches (the nearest has a nice beachside taverna), deserted except in high season when they fill with campers. Excursion caiques run trips from the harbour along the coast to even more delectable, and even less frequented, sandy beaches There are a few tavernas in Agios Stavros, though they may not all be open outside high season. Donoussa is, however, becoming noticeably busier in the summer months, partly because of greatly improved sea connections over the last couple of years. So far that probably counts as a plus, not minus, point.

Pension Iliovasilema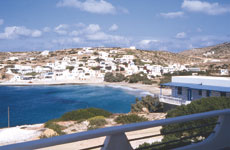 The view over the port and beach from its terrace is splendid, the accommodation simple. Some rooms sport minimal cooking facilities but don't rely on them. The owner's taverna is a few steps away.
Fridge; B&B.
Enquire about: flights + accom'n at Pension Iliovasilema