EAST AEGEAN
Fourni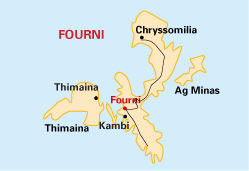 Size: max 15km x min 1km
Martian Risk: Nil
Fourni is one of our favourites – and almost a Hidden Greece exclusive. The village, clustered round its busy harbour filled with working fishing boats, is quintessentially Greek, with a line of tavernas and restaurants (especially fish restaurants) on the front, many with tree-shaded tables outside. This is Greece as it has been for centuries. Mulberry trees line the main street from the harbour to a charming square shaded with leafy planes protecting the taverna the locals frequent. There are more shops than you might think at first sight – Fourni has not yet gone in for plate-glass floodlit window-dressing, preferring to let you think you are entering someone's front parlour when in fact it's the local butcher's or baker's.
There are several sandy beaches within 10-30 minutes walk of the village. The nearest lie just north of the end of the harbour-front and the further you walk the emptier they get. In the opposite direction, you climb up from the far end of the town beach, past the charming cemetery to a saddle which offers a wonderful view back over the village and across to the off-island of Thimaina (which you can visit and where there are walks and beaches). Then it's down a path to a series of sandy coves and a few tavernas on a gloriously tranquil bay. In the main season you can get to Kampos by caique from the jetty if you feel lazy. Kampos is showing signs of becoming a resort in its own right – there are several tavernas, some rooms where you can stay, a lovely sandy beach and, so far, welcome tranquillity. In our view, however, it's the ideal place for a lazy day, but lacks the stimulation of harbour life found in Fourni village itself. (What stimulation? – Ed.)
If you prefer to lose, rather than put on, weight, you can make a four hour trek (though the track has now been asphalted) along the spine of the island to Chryssomilia, a lovely village clinging for dear life to a steep hillside rising from a series of sandy bays. This is surely a place just waiting to be discovered - and we are watching. It is already a port of call for the local caique service linking Fourni (and Thimaina) with Samos as well as for the taxi-caiques serving it from Fourni, so you don't have to do the four hour walk there and back; but don't miss this because the views across to Samos and Turkey and of the many deserted bays of Fourni below you are superb. Another area well worth exploring is the long southern peninsula where there are small settlements off the track leading down to some nice beaches at the furthest tip: a bit far for walking, so a scooter is the best answer. If you want to experience another island or two, careful perusal of the boat schedules may allow a visit to Ikaria, Samos or Patmos.
Getting there
Best by scheduled flight from Heathrow or Manchester via Athens to Samos (or, occasionally Ikaria or Leros) and thence hydrofoil, ferry or caique. You can use the Thursday charters from gatwick and Manchester to Samos, but we can usually design better connections via Athens.