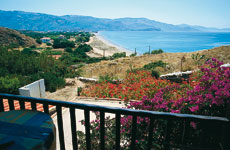 Six studios with well tiled sh/wcs, simple kitchenette and twin beds on a raised platform; and two bigger studios with three single beds; all with big balconies facing sea and the sandy beach sweeping away south, a few steps down a path. Volissos centre five minutes' drive away.
Air-con; S/C 2-3 pers.
Seasons
High 13/7-23/8
Mid 8/6-13/9
Low 20/4-28/9
Website: www.chios-marvina.com
Please mention Hidden Greece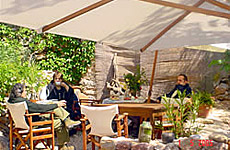 Simple refurbished cottages flanking the stepped main street of the upper part of the village with lovely panorama with glimpses of the sea. No 4 has big balcony and private amphitheatre for 100 people (no performances scheduled) outside the back door.
S/C 2-3 persons.
Seasons
High 16/7-31/8
Mid 16/4-31/10
Low 16/4-31/10
Website: www.spilia-chios.gr
Please mention Hidden Greece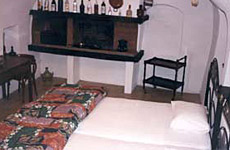 Four flats over two village tavernas (air-con) plus a row of cottages (fans) near the square. All different, all charmingly quirky, but comfortable and well equipped.
S/C 2-4 pers.
Seasons
Peak 21/7-31/8
High 1/7-20/7
Mid 1/6-30/9
Low 1/4-31/10
Website: www.spitakia.gr
Please mention Hidden Greece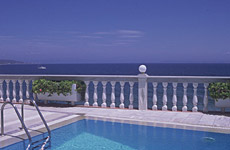 16 spacious studios and 4 apartments right on the sea, not five minutes' walk from the harbour front tavernas. All units have full sea view from their large balconies. Attractive pool with sun-beds round it on the terrace. Apartments have kitchen/diner with two sofa beds. Overlooks a beach which is better for a quick swim than a whole day's picnic. Lovely views across to the Turkish coast.
Cat A; tel, air-con; S/C 2-4 pers.
Seasons
High 16/7-5/9
Mid 1/6-30/9
Low 15/4-31/10
Website: ostriastudios.gr
Please mention Hidden Greece

Stone Houses of Kalamoti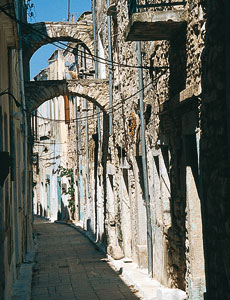 Two studio/apts tucked into the picturesque old quarter: here is your chance to feel really Greek. Inevitably quirky and best for 2 persons, but two extra beds dotted around - OK for family. Compact kitchens and sh/wcs but well equipped; and nice patios. One has elegant living room.
TV; S/C 2-4 pers.
Seasons
High 6/7-23/8
Mid 14/6-6/9
Low 1/4-28/9

Thalassoporos Hotel, Inousses Island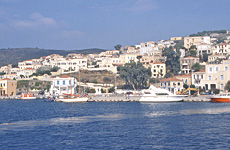 Refurbished (in parts) and run by charming friendly people, the Thalassoporos stands up in the old village with nice views from many of the rooms. The shops - decidedly unsophisticated - and the eating and drinking places are all within easy walking distance down wide steps and within puffing distance on the way back.
Air-con; B&B.
Seasons
High 1/7-31/8
Mid 14/6-6/9
Low 1/4-28/9
When you book, remember our