DODECANESE
Client Reviews from Patmos
REVIEW: Patmos and Captain's House Hotel, Skala summer 2011
Patmos has an air of  peace & tranquillity which is hard to put into words. At 'The Captain's House Hotel', Skala where the ferry docks, the breakfasts were excellent, the best we've had in Greece, friendly  & helpful owners, room facilities adequate & towels changed daily. Rooms were cleaned every day. We were the only English people staying at the hotel & we only met another English couple in Chora at a taverna the night before we left ! That's what we call a holiday ! I will never forget the first sight of Patmos topped with the Monastery of St John & the pure white houses lit up by the evening sun  and scattered across the hillside as if crowning the mystical & holy Chora. In Skala the tavernas were of a good standard, varied in what they offered & all very friendly. We have some wonderful memories as well as photographs, & often speak of its beauty. My husband loved to watch the cruise ships leaving in the evening from our balcony. Incredibly, it wasn't noisy &  they didn't dominate the  port, just added interest. To  complete the experience , the sun shone & shone ! It was sheer perfection . We will return because it's a little bit of heaven.
W&HP
REVIEW: Patmos and Australis Hotel summer 2010
We just wanted to say that we had a fabulous time on Patmos - it was perfect for a relaxing break with no hassle on a beautiful island; and the icing on the cake was that there was hardly a Brit in sight, although just about every other nationality!

The Australis Hotel is just lovely. We couldn't have found anywhere better for our first time on the island. The standard of accommodation was very high with daily cleaning. Fokis was very helpful, very kind and very, very talkative. He'll also pick you up and drop you at the harbour for the ferry.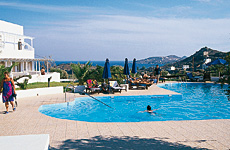 The smartest hotel on Patmos, set round a large swimming pool, with lovely views and 15 minutes on foot from Skala. The rooms, furnished with island antiques, have balcony or veranda, most with sea view.
Cat.B; pool, sauna, internet/fax; air-con, sat TV, king size beds, mini-bar, hair-drier, coffee machine, safe-box; B&(buffet)B.
Seasons
Peak 22/7-31/8
High 1/7-21/7
Mid 1/6-30/9
Low 20/4-31/5
Website: www.portoscoutari.com
Please mention Hidden Greece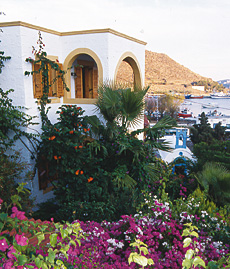 A small complex of studios and apartments submerged under swathes of exotic shrubs with views across the harbour to the monastery.
S/C 2-6 pers.
Seasons
High 15/7-15/9
Mid 1/6-30/9
Low 1/4-31/10
Website: www.patmosweb.gr/australishotel
Please mention Hidden Greece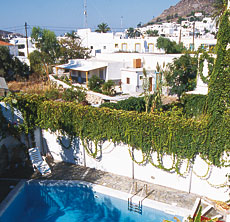 Right on the harbour with nice views (unless a cruise-ship parks in front). Excellent rooms and a pool in the back yard make this a convenient choice. Breakfast inside or on the quay!
Air-con; pool. Supp.for sea view. B&B.
Seasons
High 1/7-31/8
Mid 1/6-30/9
Low 1/4-31/10
Website: www.captains-house.gr
Please mention Hidden Greece