DODECANESE
Astypalea
Size: 18 km x 12 km
Martian Risk: nil
Although it is part of the Dodecanese Astypalea has more of a feel of the Cyclades, especially the whitewashed Chora, surmounted by the impressive ruins of a Byzantine castle, which is splendidly floodlit each evening. The butterfly shaped island has some magnificent sandy beaches, some archaeological interest including good Roman mosaics, and seldom gets busy except when the Athenians descend in August. Boat trips around the island give a chance to visit otherwise inaccessible beaches. Car or moped hire are available. Ferry connections allow combining a visit with Kalymnos or Amorgos or Naxos, and apart from air connections from Athens one can also fly to Leros, Kos & Rhodes.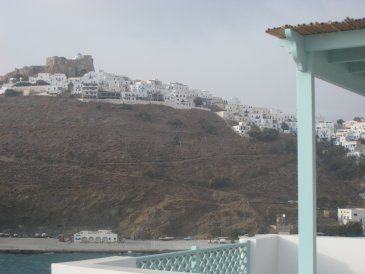 Astypalea: Kastro (Chora) from Thalassa Hotel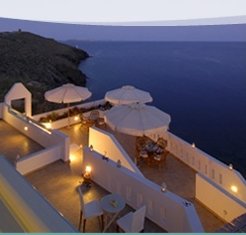 Thalassa Hotel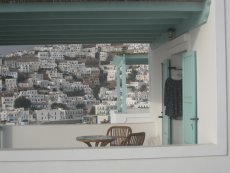 Looks across the scenic harbour of Pera Gialos up to the Chora and castle, all studios with terrace and view. Only a few minutes walk from the bustling centre of everything.
Unfortunately the last time one of us passed by, major alteration/ destruction was taking place so this listing is just to try and make sure we dont forget them! Karlos Rooms (see below) has a similar position and none of the workmen.

Stampalia Luxury Studios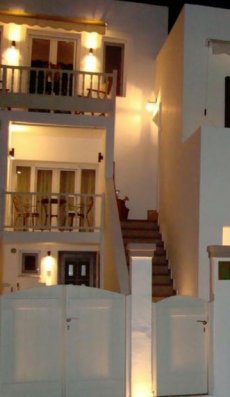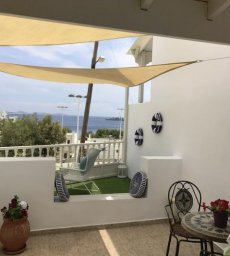 New to HG in 2018, Stampalia Luxury Studios is in an excellent central location overlooking the port and the historic castle and is only 50 metres from the nearest beach. The comfortable studios are elegantly furnished and offer everything that you need for your stay. And Maria's hospitality is second to none. As the first client we sent there told us: "Stampalia just blew us away - really lovely. Maria was amazing - we had lots of goodies in the room including a bottle of wine and regular offerings of cake." Don't think we should promise the cake and wine though, or the Christmas cards they now send to each other. But you never know. B&B
Enquire about: flights + accom'n at Stampalia Luxury Studios

Karlos Rooms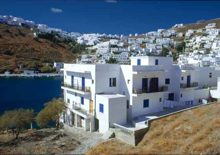 Karlos Rooms run by Karlos Paniotis and his delightful wife Betty is just down the road from Thalassa and has similar superb views across the bay towards the Kastro. Nestled on the rocky shore of the town of Pero Gialos, sits a complex of individual rooms, each with a veranda that offer you views of the sea and up to the castle. All of the rooms are simply but beautifully furnished with all of the amenities you need for a relaxing and unforgettable holiday. Tip: the quicker way up to the Chora is by the old mule path, off the harbour front at the southern end. RO
Enquire about: flights + accom'n at Karlos Rooms